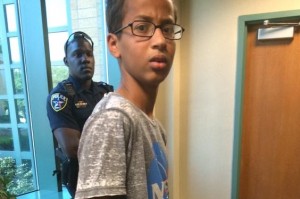 The mayor of Irving, Texas spoke out in support of the school administrators and local police who suspended and arrested Ahmed Mohamed for bringing what they assumed was a bomb to class.
In a length post published to her personal Facebook page, Mayor Beth Van Duyne wrote a spirited defense of the MacArthur High School officials who initially discovered and reported Mohamed's homemade clock to the local police department. She also commended the police, who "have procedures to run when a possible threat or criminal act is discovered."
"I do not fault them," she said.
Van Duyne added that "to the best of my knowledge, they followed protocol for investigating whether this was an attempt to bring a Hoax Bomb to a school campus. Following this investigation, Irving PD has stated no charges will be filed against the student."
"I hope this incident does not serve as a deterrent against our police and school personnel from maintaining the safety and security of our schools," she said in her statement.
The Dallas Morning News reported that Irving Police Chief Larry Boyd said no charges would be filed against Mohamed at a Wednesday press conference. So when Van Duyne said that such would be the case "to the best of [her] knowledge," she was right.
However, it's difficult not to consider her concluding paragraph's call for everyone to "learn from this week's events," and its hope that Mohamed "will not feel at all discouraged from pursuing his talent in electronics and engineering," a little disingenuous. Especially since she's the same Texas mayor who made national headlines in March for accusing the city's Muslim leaders of instituting Sharia law.
[h/t The Hill, Facebook]
[Image via Twitter]
— —
>> Follow Andrew Husband (@AndrewHusband) on Twitter
Have a tip we should know? tips@mediaite.com