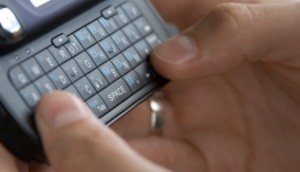 Looking back on the summer of 2009, many will remember it as the Summer of Death, but for much of the media it was also the Summer of Texting. Hardly a day goes by without some story about the dangers of cellphone use, especially the simple messaging service (SMS), from driving to sleep deprivation. The New York Times has an entire topics page dedicated to the "text messaging" beat! But along with dinner table etiquette and auto safety, some of the old and out of touch have wondered about texting's effect on kids' brains. Is "chatspeak" — shorthand the youth uses in texts and online — ruining spelling skills?
Not so, according to a new study being discussed on the Los Angeles Times' health blog. The findings report that "parents who think that frequent texting will transform their children into abbreviating, acronyming, emoticoning adults" may just be paranoid. "Kids who are good spellers [academically] are good spellers in instant messaging. And kids who are poor spellers in English class are poor spellers in instant messaging," the study found. It all seems pretty obvious once you put aside a bias toward technology and youth culture, no?
The research, recently published in Reading and Writing, was compiled by testing 40 kids, ages 12 to 17, with a "standard spelling test" in addition to analyzing their texting tendencies. According to the Times, "The Canadian researchers discovered the young people used an enormous range of types of new language, and that girls outranked boys in use of new language." Kids these days — creative, communicative and decent spellers. Paranoid parents, rest assured… for now.
Have a tip we should know? tips@mediaite.com