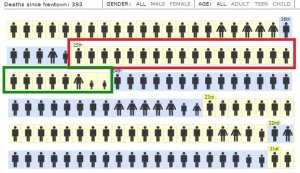 Even though the fiscal cliff, and associated upcoming cliffs, have overtaken the cable news cycle, an epidemic of gun deaths continues to plague the United States, and unlike the U.S. Congress, it doesn't take the day off for Christmas. The website Slate.com, with help from the @GunDeaths Twitter feed, has been tracking gun deaths reported since the tragic shooting at Sandy Hook Elementary School in Newtown, Connecticut, on Dec. 14. The chart is a stark reminder of the toll guns take every day in this country, even on Christmas Day, when there were published reports of 25 deaths by firearm. Here are the stories behind those deaths, including two children, a yo-yo champ, and a home invasion suspect who may have shot himself in the head as he fled police.
Two year-old Sincere Tymere Smith in Conway, South Carolina:
Sincere Tymere Smith grabbed a gun that was on a table and shot himself in the chest at a home on Daisy Lane near Conway, said Horry County police Sgt. Robert Kegler.

He was taken to Conway Medical Center, transferred to Grand Strand Regional Medical Center and then sent to a Charleston hospital.
Ten year-old Alfreddie Gipson in Memphis, Tennessee:
Around 200 candles were lit for Alfreddie Gipson on Friday after the 10-year-old was accidentally shot by his brother on Christmas Day…The community helped organize (a) vigil at Brinkley Heights Baptist Church, where Alfreddie was not only a student, but a teacher. His church family told tales of Alfreddie's love for God that he shared with everyone.
28 year-old Stephanie Weikel and 37 year-old Richard C. Weikel, in Mahanoy City, Pennsylvania:
Lt. John Kaczmarczyk said the couple were discovered after officers were called to the house about 1:20 a.m. for a report of a suicidal person.

That call, police Chief Mark Wiekrykas said, came through the Schuylkill County Communications Center from Richard Weikel's ex-wife who resides in another community.

Wiekrykas said Richard Weikel called his ex-wife and admitted to the murder.

"He told her he just killed his current wife and said he wouldn't to be able to spend the rest of his life in jail," Wiekrykas said.
51 year-old Gilberto Segovia in Tabor City, North Carolina:
The sheriff's office says 51-year-old Gilberto Segovia was found dead about 12:30 a.m. Tuesday at the bottom of his front steps. His girlfriend had been forcefully taken by her ex-boyfriend but later escaped unharmed.

Capt. David Nobles says that ex-boyfriend and two others are being sought for the shooting.
46-year-old Rebecca Buffkin in Tabor City, North Carolina:
Columbus County authorities have charged a 60-year-old man with fatally shooting his girlfriend in her home near Tabor City.

The sheriff's office says Beamon Fowler called 911 about 1:15 a.m. Monday. Fowler told deputies he shot 46-year-old Rebecca Buffkin with his handgun during an argument. She was shot in the head in her kitchen.
32 year-old Ronald Lewis, in Oakland, California:
Ronald Lewis, 32, of Oakland was shot multiple times at 24th and Chestnut streets about 2:30 p.m. Tuesday . His death is the 127th homicide of the year. The last time there were 127 homicides was in 2007.

No one has been arrested and no motive was immediately known in the drive-by shooting.
40 year-old Richard Licon in Pueblo, Colorado:
Officers encountered him while responding to a report of domestic violence. Police said the man came out of a house and brandished a gun at officers who arrived on the scene Christmas morning. Initial reports were that the man also fired at officers, but Sgt. Eric Gonzales said Wednesday it's unclear now if a shot was fired or if a door had slammed.

…Richard Licon, 40, was killed by the officers Tuesday after allegedly brandishing a handgun at them in the 900 block of West Evans Avenue.

Sgt. Eric Gonzales said Friday that Licon pointed a gun at Candelaria before going back inside a home and closing the door.

Gonzales said Licon ran out the back of the property and Ballard assisted in a foot pursuit to the 100 block of Arthur Street.

At an apartment building on Arthur, the two officers found Licon hiding on a porch behind a large bush where he allegedly raised a gun.

It was there that he was shot.
24 year-old Paul Brown in Norristown, Pennsylvania:
Borough police found 24-year-old Paul Brown in the driver's seat of a sedan in a rear alley.

Officials say he was taken to Mercy Suburban Hospital and later pronounced dead.

The Montgomery County coroner's office says he died of multiple gunshot wounds and ruled the case a homicide.
32 year-old Marwin Chambers in Pontiac, Michigan:
Marwin Chambers was found shot to death in the driveway of his home at 138 N. Glenwood Ave. early Tuesday morning, police say. Chambers had multiple gunshot wounds and was pronounced dead at the scene by a doctor from McLaren Hospital.

Deputies located footprints in the snow leaving the scene. A K-9 unit from the Oakland County Sheriff's Department was brought in to track the footprints, but the scent was lost near N. Glenwood and Oliver streets.
42 year-old Greg Girard in Vermillion, South Dakota:
Authorities are still investigating the circumstances surrounding a 12-hour standoff at a South Crawford Road home that started about 1 a.m. Tuesday and ended with Greg Girard apparently shooting himself to death inside the house. Hours before the fatal shot, his wife, Julie Girard, had fled to an off-duty police officer's house nearby, and Greg Girard had refused to release their two children. He later relented.
34 year-old Darwin DeMarcus Weathers in Grand Rapids, Michigan:
Grand Rapids Police say a woman told them she shot and killed her boyfriend Christmas night.

Officers located the victim in the driveway of a residence when they arrived on scene.  He was transported to an area hospital where he died from his injuries.

The woman told police she had just shot her boyfriend and was taken into custody.

The three children in the home at the time of the shooting are being taken care of by Child Protective Services for the night.
34 year-old Sabah Mallak in Billings, Montana:
David B. Isaacson, 41, was arrested Tuesday morning on suspicion of deliberate homicide.

Police responded at about 1 a.m. to a report of gunshots fired at the intersection of Galway Drive and Hawthorne Lane.

Upon their arrival, they discovered the victim, Sabah Mallak, 34, of Billings, lying in the street in front of a house at 1137 Galway Drive, where he was pronounced dead.

Near the man's body, a red Pontiac Grand Am had crashed through the fence at the residence on Galway, coming to rest in the front yard.
25 year-old PFC Grant W. Wise at Joint Base Elmendorf-Richardson, Alaska:
Pfc Grant W. Wise, 25, of Perinton was "found in another soldier's barracks room with a single gunshot wound and declared deceased at approximately 7:45 a.m.," according to a statement released by U.S. Army spokesman Lt. Col. William Coppernoll.

Wise's death is being investigated by the U.S. Army Criminal Investigation Detachment, Coppernoll said.
30 year-old Bryan Keith Phillip in Glen Burnie, Maryland:
An employee of a Glen Burnie coin shop shot and killed a man who had broken into the store Tuesday morning, police said.
22 year-old Jarvis Gilmore in Boston, Massachusetts:
Boston police have identified the man slain in a Christmas Day shooting at a Roslindale housing project as Jarvis Gilmore, 22.

Gilmore was found facedown, shot in the head on a footpath outside the Archdale Village project Tuesday.

He was pronounced dead at the scene just after 8:30 p.m.

Marie Florant, a three-year resident of the project, said she knew Gilmore only by his first name and called him a "quiet" young man.

She recalled seeing him outside only days before the shooting, when he asked for a cigarette.

She said she advised him to quit.

Florant said Gilmore was the oldest of six children and had a young child of his own.

"That's the saddest part," she said.
23 year-old Clifton T. Williams in Joliet, Illinois:
Clifton T. Williams, of Joliet, was apparently shot on Spruce Slip Street in Joliet and was declared dead about 3:40 a.m., according to the Will County Coroner's office.
26 year-old Edward Becker Jr. in Taneytown, Maryland:
The shooting occurred shortly after 8:30 p.m. on Christmas. Police say they were called to the scene by Becker's parents, who reported that he was drunk and was smashing windows out of his truck with a hammer.

Three Taneytown officers responded, and all yelled at Becker to drop the hammer, but police say he refused and continued approaching them. He died at a hospital after he was shot.
49 year-old Victor McClinton in Pasadena, California:
Victor McClinton, 49, a sheriff's law enforcement technician, was fatally shot early Tuesday and another man in his 20s was wounded and listed in critical condition at a nearby hospital. McClinton had been with the Sheriff's Department for the past 18 years, agency spokesman Steve Whitmore said.

…Police don't believe McClinton was the target of the shooting, which left a red sedan riddled with bullet holes. No arrests have been made.

More than eight hours later police say they tried to stop an SUV for a traffic violation as it headed away from an area near the murder scene when the vehicle sped away. Police gave pursuit and the SUV smashed into a van, killing a 26-year-old woman and an 11-year-old boy in the other vehicle.
23 year-old Nathan Dewitt in Phoenix, Arizona:
The death of a man from Western Washington who was one of the top yo-yo experts in America remains a mystery.

Nathan Dewitt is originally from Mount Vernon and his mother lives in Blaine.

Dewitt recently moved to be with his father in Phoenix, Ariz., where he went to a party Christmas night and was shot at some point.

Police speculate that DeWitt could have been shot at the party and then tried to drive away to get help.

The 23-year-old lost control of his SUV and crashed a few blocks from where he lived with his father.

…He was the Pacific Northwest yo-yo champion in 2005, placed eighth in the 2008 competition and 18th last year.
43 year-old Dale Rock in Newbury, Vermont:
A 51-year-old Vermont woman was charged with second-degree murder Wednesday for the Christmas night shooting death of a 43-year-old man.
Anne-Marie Whiteway, of Bradford, was charged in the death of Dale Rock, who died of an apparent wound to the head at his home in the neighboring town of Newbury, Vermont State Police said.
Police received a call shortly after 10 p.m. Tuesday that multiple shots had been fired at Rock's home and that a suspect had fled the scene in a car. When troopers arrived, they discovered that Rock was dead.
22 year-old Favian Macias in Los Angeles, California:
Investigators say someone shot 22-year-old Favian Macias several times around 2 a.m. near the intersection of Olympic Boulevard and Dittman Avenue.

The victim lost control of his car and crashed into a light pole. He was pronounced dead at the scene.

His girlfriend — and the mother of the couple's infant daughter — was also in the car. She told KTLA that they were looking for a parking space when the shooting happened.
20 year-old Roberto Garcia in Binghamton, New York:
It started with a report of an attempted home invasion robbery and ended with an officer shot and a suspect dead.

Officers were called to Livingston Street around 2:30 on Christmas morning. Following footprints in the snow, they found two suspects.

"She gets out of the car a little bit ahead of these individuals and says, 'Do me a favor fellas and put your hands up.' They both put their hands up and very shortly thereafter, the deceased puts his hands down," said Binghamton Police Chief Joseph Zikusky.

Police say 20-year-old Roberto Garcia opened fire on the officer.

"He comes out with a gun, fires from a .38 caliber two rounds, straight at her face and strikes her in the ear, taking a chunk out of her ear," Zikusky said. "At that point, the deceased takes off running, firing over his head. He had a .38 revolver. There were six spent shells in that gun, indicating that he fired all six rounds from that weapon."

Police returned fire and the suspect was shot three times.

…"Now interestingly enough, found in his hood was a round, a spent round, not a full bullet, from a weapon that is not ours. So at this point, Dr. Terzian is going to see if he can find any blood matter, but as the deceased was running, firing, we believe he shot himself in the head," Zikusky said.
29 year-old Nicholas Baker and 23 year-old John Griego in Santa Fe County, New Mexico:
Deputies responded to a report of gunshots fired at 11 p.m. Tuesday, during a gathering at a home on Valle Vista Court off N.M. 14 near the Penitentiary of New Mexico.

The sheriff's office said John Griego, 23, was pronounced dead at the scene, and Nicholas Baker, 29, was transported to Christus St. Vincent Regional Medical Center and was pronounced dead on arrival.

…Both victims suffered fatal gunshot wounds. It appears an altercation took place among a group of people, which may have led to the shooting. Mendoza said there was alcohol at gathering, but he didn't know if that led to the violence.
Unidentified adult male in Amarillo, Texas:
Authorities in Amarillo are investigating a Christmas Day fatal shooting at a motel.

Police were summoned to the motel along Interstate 40 after receiving a call about shots fired and someone screaming. Officers found a man dead outside a room and then summoned a SWAT team to deal with other people still inside the room.

Lt. Erick Bohannon, coordinator of the special crimes unit for Potter and Randall counties, tells the Amarillo Globe-News (bit.ly/RRUfDT) the people came out of the room without further incident. They were detained by authorities but no one was immediately arrested.

Police wouldn't say how many people were rounded up. They say the name of the shooting victim is being withheld until relatives can be notified.
Have a tip we should know? tips@mediaite.com