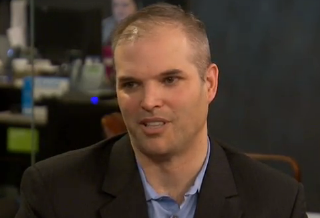 In October, First Look Media announced that it was shuttering The Racket, an online magazine run by Matt Taibbi, after serious drama between him and owner Pierre Omidyar caused the entire enterprise to collapse. Wired Magazine, which interviewed the staff of the Racket, was left with nothing but broken dreams and the things that Could Have Been — and so they ran the interview.
Not only would The Racket relentlessly mock the dryness of traditional journalism, they planed to do it with the provocative, brazen voice. "Voice is one of those ways that helps readers trust you a little bit more because they have a sense of you as a person," Taibbi explained to Wired, and, if all had gone to plan, The Racket would have had the voice of a manic preteen who just discovered the Wall Street Journal and forgot to take their Adderall every morning.
Oh, it was beautiful — like their plan to kill animals in order to predict the midterms:
"Yesterday I went to the occult bookstore in Bushwick," said Pareene. "The guy who owns the shop throws runes. I wanted to get someone who reads animal entrails. We're going to predict who is going to take the Senate with occult practices—we're only going to use occult practices to predict things. Edith is also making us a Tarot deck."
Or their demented plot to find Nate Silver lookalikes and shake them down for data:
"We also have an idea we're calling Apartment 538, a Facebook community of people who look like Nate Silver, and we're just going to poll them on things," said Taibbi. "Instead of having a Nate Silver-produced poll we're just going to poll 87 people who look like Nate Silver."
Or even their dubious plan to outsource Thomas Friedman columns to India, complete with quotes from cab drivers:
…"Instead of paying Thomas Friedman whatever the New York Times pays him, I paid a couple hundred bucks and got a month's worth of columns," said Pareene.

"To show the effects of globalization," laughed Taibbi.

"Exactly!" agreed Pareene.

"We can have Thomas Friedman for 1,000 times less the cost," said Taibbi, with his brow furrowed seriously now.
To, uh, this:
"We want to have a thing on a site where you click a button and it goes to a webcam of Felix Salmon just free associating about something," said Taibbi. Or maybe it was Pareene. It didn't even matter anymore. They were fully of one mind by now.

"We want to feed him Adderall."

"Yeah, feed him Adderall. Click here for 40 seconds of Felix Salmon free associating on Adderall."
Oh, what could have been.
It got so weird at the end, I forgot how much fun it was working with @pareene and the rest of Racket http://t.co/ukphBO93ba

— Matt Taibbi (@mtaibbi) December 15, 2014
[Wired]
[Image via screenshot]
—
>> Follow Tina Nguyen (@Tina_Nguyen) on Twitter
Have a tip we should know? tips@mediaite.com