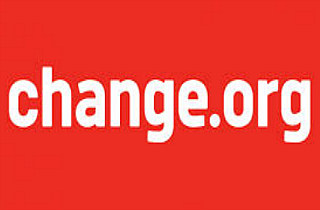 One Change.org user thinks he has the Change.org petition to end all Change.org petitions. Literally.
On Wednesday morning, a user named Adrian Alonso posted a new petition to the website asking change.org to "Remove your website 'change.org' from the Internet."
According to the explanation, Alonso wants change.org "completely" gone — "Bye-bye."

Why? Because "[s]ome of us are offended by your reckless enabling of control freaks to start social justice lynch mobs whenever they see something that even remotely bothers them. It's wrong. It's disgusting. You should be ashamed of yourself."
He continued on to mock the very existence of the free petition site:
Extremely valid statistics show that 479 trillion Americans are afflicted by the disease of believing that just because a large number of people with Internet access tell an entity to do something, it is that entity's democratic obligation to comply. Well, guess what:

They're right. So by the power vested in me by my awful parents, I hereby demand, in the name of the self-righteous masses of America, that you delete your website "change.org" from the World Wide Web. Forever.
The petition's goal was set for only 100 signatures, which will likely be met within a few hours as author Jim Goad just recently tweeted out a link to it.
Change.org is perhaps best known for gathering more than 2.2 million signatures for the Martin family's petition to have the Florida Attorney General prosecute George Zimmerman for the fatal shooting of their son Trayvon. Another petition successfully forced Bank of America to drop its $5 debit card fee.
Some of the petition's current signees laid out their reasons for signing in humorous fashion:

Others seem to have an ax to grind with "left-wing" activism inspired by the petition site:

While others just want to put an end to "slacktivism" and the site's "witch hunts":


— —
>> Follow Andrew Kirell (@AndrewKirell) on Twitter
Have a tip we should know? tips@mediaite.com