The Daily Beast Falls For Twitter Hoax, Falsely Identifies Quebec City Mosque Shooters
The Daily Beast falsely reported Sunday night that a pair of white supremacists had been identified as the perpetrators of the mass shooting at a Quebec City mosque.
The rumor that white supremacists David M.J. Aurine and Mathieu Fournier were identified as the shooters appears to have been begun by a hoax Reuters account.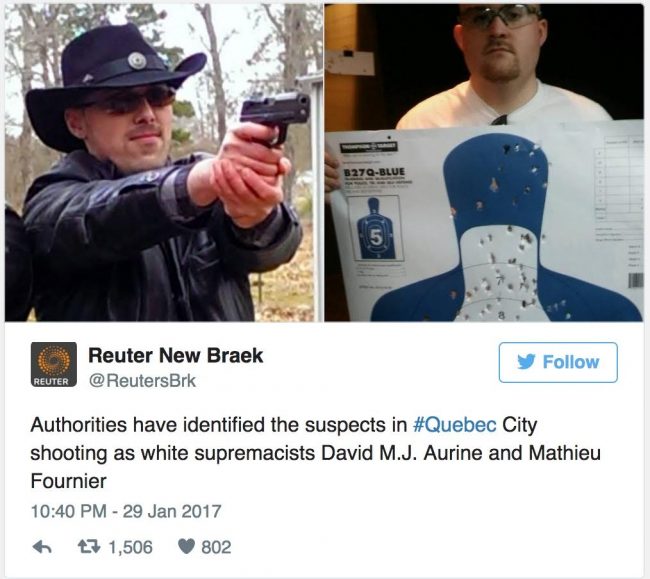 Again, that isn't really Reuters, but the tweet racked up over a thousand retweets. While many fell for the hoax on social media, the only outlet that reported on it was the Daily Beast.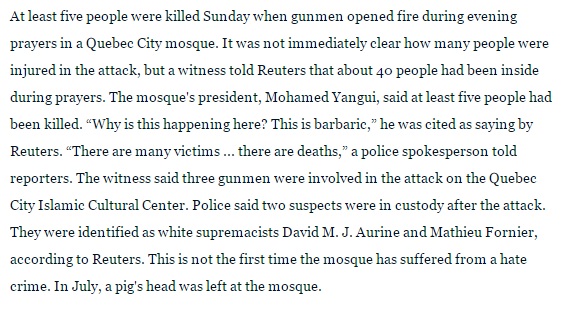 The parody account appeared to acknowledge the Daily Beast story, tweeting two hours later, "It's not my fault modern journalists are all gullible morons."

UPDATE: The Daily Beast has corrected the error and added an editor's note:
"This piece originally stated that Reuters reported the names of the assailants. However, the information came from a Reuters parody social-media account. We regret the error and have deleted the information."
[Image via screengrab]
—
>>Follow Alex Griswold (@HashtagGriswold) on Twitter
Have a tip we should know? [email protected]