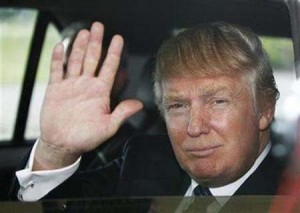 So far Donald Trump has been creating buzz about whether or not he'll run for president in 2012 by having made looking into Barack Obama's past – specifically, his birth certificate and college transcripts – his major focal points. But perhaps people in glass luxury hotels shouldn't throw stones. Trump's financial records and tax returns have already been a topic of discussion among those in the media, and Rand Paul recently demanded that Trump show his "original long-form certificate of Republican registration." And, now, some digging around into Trump's own past has revealed that the man who might maybe sort of possibly make a bid for President may have actively avoided serving his country. Keep in mind: Trump has made his own proposed plans regarding military action abundantly clear and also formerly attended the New York Military Academy.
This week, Trump discussed why he did not fight in the Vietnam War with local Fox affiliate WNYW:
I actually got lucky because I had a very high draft number. I'll never forget, that was an amazing period of time in my life.

I was going to the Wharton School of Finance, and I was watching as they did the draft numbers and I got a very, very high number and those numbers never got up to.
What Trump didn't mention, however, was that he actively avoided serving. According to The Smoking Gun, the business mogul's Selective Service records reveal that by the time his draft number – 356 – was drawn during the December 1, 1969 draft lottery, Trump had received four student deferments and one medical deferment. These can be seen in a document on file with the National Archives and Records Administration.
The Smoking Gun explains:
Trump obtained his first two Class 2-S student deferments in June 1964 and December 1965, when he was student at Fordham University in the Bronx. He was briefly reclassified as 1-A–or "available for military service"–in late-November 1966, but that classification was switched back to 2-S three weeks later.

Another 2-S deferment is dated January 16, 1968, just months before his graduation from UPenn (to which he transferred following his sophomore year at Fordham).

Following his UPenn graduation, Trump–no longer qualified for a 2-S deferment–was again briefly classified as available for service on July 9. However, three months later, on October 15, his classification was switched to 1-Y, which was given to men deemed qualified for military service "only in time of national emergency."

The 1-Y classification came a month after Trump underwent an "Armed Forces Physical Examination," according to Selective Service records, which note the results of the exam as "DISQ." While the military records do not further detail why Trump was granted the 1-Y deferment, a 1992 biography of the businessman by journalist Wayne Barrett reported that Trump received a medical deferment following the September 17, 1968 exam.
Now. Who wants to participate in a The Last Word drinking game organized around what Lawrence O'Donnell might have to say about this? One shot for each look of unbridled glee, two shots for each mention of NBC, and an exploded liver every time he mentions that it's not like Trump is going to run anyway.
h/t The Smoking Gun
Have a tip we should know? tips@mediaite.com