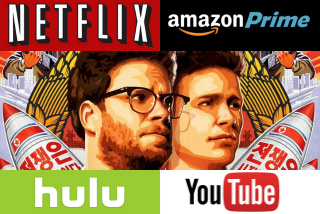 During an interview with CNN's Fareed Zakaria that aired Sunday, Sony Pictures CEO Michael Lynton said of The Interview, "As it stands right now, while there have been a number of suggestions that we go out there and deliver this movie digitally or through VOD, there has not been one major VOD – video-on-demand distributor – one major e-commerce site that has stepped forward and said they are willing to, uh, distribute this movie for us."
"Sony only delayed this," the company's lawyer, David Boies told Chuck Todd on Meet the Press. "Sony has been fighting to get this picture distributed. It will be distributed. How it's going to be distributed, I don't think anybody knows quite yet. But it's going to be distributed."
But who is actually going to step up and do it?
Also making the rounds on yesterday's Sunday shows was Harvard Law School's Alan Dershowitz, who brought up the example of Salman Rushdie's The Satanic Verses, which was put out by a collective of major publishers in defiance of a fatwa placed on the author by the Iranian regime. "If the Hollywood studios would do what the publishers did, and if we make sure that everything time they try to censor, more people will see it, more people will read it, then it will backfire and that will send the most powerful message," Dershowitz told CNN's Brian Stelter.
Watch video below, via CNN:
Thanks to George Clooney, we know that Sony was not the only major studio to capitulate to North Korean hackers' demands that The Interview be pulled from theaters. The actor recently revealed he had created a petition for the studio heads to sign, vowing to stand by Sony if they moved forward with the film's release. And not one studio would sign it.
"How can you not sign this?" Clooney asked. "Nobody stood up. Nobody took that stand."
While they are now insisting that they want The Interview to see the light of day, Sony has spent the last week doing its best to pretend the film never existed. The movie's official Facebook page is gone. Its Twitter profile has no tweets. And every teaser and trailer for the film has been removed from Sony's YouTube channel. If the company does decide to release the film, either in theaters at a later date or any other way, they will have undone most of their digital marketing (not that the film could have any more public awareness at this point).
And while Sony CEO Lynton claims there has "not been one major" VOD or online streaming site that has stepped up and offered to show The Interview, he neglected to mention that Sony owns one such site itself: Crackle, best known as the home of Jerry Seinfeld's "Comedians in Cars Getting Coffee" web series.
Just as Sony was too afraid to put out The Interview in theaters on its own, it appears to be unwilling to use its own streaming video site to host it online. And perhaps for good reason: With only one site hosting the film, it could be vulnerable to the type of cyber-attack that hit Sony in the first place.
That's why it can't be just one site that streams The Interview — it has to be all sites. With the original Christmas release date just days away, it's time for the internet to step in and fix what Sony and the major movie theater chains broke. The biggest players in the online streaming world are constantly trying to prove that they are legitimate players in the entertainment industry (see this weekend's New York Times profile of YouTube chief Susan Wojcicki) and this is their chance.
If Netflix, YouTube, Amazon, Hulu and others join Crackle in simultaneously making The Interview available for public viewing, it will not only send a powerful message to the North Koreans who think they can censor what Americans see, it will also be a watershed moment for the power of streaming video services.
In his column on the Sony hack Monday, The New York Times' David Carr suggested that the broadcast networks and cable channels should come together along with online outlets to show The Interview, but the idea that NBC, ABC, CBS and Fox are going to give up two hours plus of airtime to show an R-rated comedy when they won't even air 10 minutes of President Barack Obama's immigration speech seems seriously far-fetched.
No, this time, it is going to be up to these new media platforms to come together and show their worth. By not giving one site exclusive rights to the film, Sony will likely lose the money they would have made with a theatrical release. But they will gain back the respect of audience members who don't want Kim Jong-un deciding what movies they get to see.
UPDATE — Dec. 24, 12:40 p.m. ET: Even as more and more independent movie theaters book Christmas Day screening of The Interview, Sony announced Wednesday that they will make the film available for rental on YouTube, Google Play, Xbox and Crackle starting today at 1 p.m. ET for just $5.99.
[Photo via screengrab]
— —
>> Follow Matt Wilstein (@TheMattWilstein) on Twitter
Have a tip we should know? tips@mediaite.com