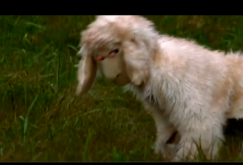 By now you've probably watched (again and again) the awesome Demon Sheep ad put out by California senate seat seeker Carly Fiorina. The ad, which Mediaite's Tommy Christopher described as "an ad so weird, it would make Salvador Dali say "WTF?", left a lot of people wondering whether this was political genius at work, or just amateur ad-making that accidentally went viral. The answer appears to be genius.
Time's Michael Scherer did some digging and discovered the man behind the ad was Republican media consultant Fred Davis III, incidentally also the man behind the McCain camp's 2008 "Obama celebrity" attack ad. According to Scherer this is not Davis' first foray into awesomely bizarre political ads:
Davis, a rare blow-dried Republican in liberal Los Angeles, has played this card before. He first made his mark on the national scene by producing a ten-minute movie for 2002 Georgia gubernatorial candidate Sonny Purdue, that depicted the sitting Gov. Roy Barnes as "King Roy," a giant rat with a gold crown stomping like Godzilla through Atlanta. That was before the advent of Youtube and viral video, so he screened the film for journalists at a movie theater, and the next day the Atlanta Journal Constitution ran an image from the spot on its front page. Purdue went on to win the office.

In Illinois, last year, Davis produced a six-minute video for Republican senate candidate Andy McKenna that put Governor Rod Blagojevich's hair on the state capital and most of its inhabitants, making it a symbol of corruption in the state. The ad was called "Hair Today, Gone Tomorrow," and though it generated significant media coverage, the McKenna campaign eventually pulled it from circulation. "While the ad was running we gained countless points in the poll," he said. "But they got cold feet on the hair."
One can only hope the phrase "but they got cold feet on the hair" also goes viral. Maybe this is the future of political ads in the internet age: pay an expert to make them look bizarrely amateur. Or, as Rachel Sklar remarked on yesterday's Office Hours, perhaps the future of political media is to be found in 4chan. Certainly a whole lot more people know who Carly Fiorina and Tom Campbell are today than did on Monday. It will be interesting to see if corporations — who thanks to the Supreme Court are now allowed to spend unlimited amounts on political advertising — are savvy enough to adopt a similar strategy come this November's midterms. And finally, if you're not following @demonsheep, you're missing out on some fun.
Have a tip we should know? tips@mediaite.com