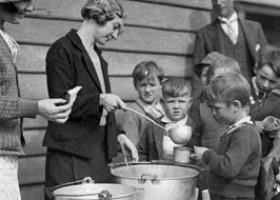 Putting a human face on the "the most severe economic crisis since the Great Depression" appears to a hot topic in many newsrooms this month. Sure, we've been getting lots of coverage on the dwindling economy since the market crash of last fall, but recently, the news is getting personal – it wants to know about you and your personal riches-to-rags experience. And they're doing everything they can to make it as easy as possible for you to tell them all about your financial struggles – so that, in turn, they can tell you about your financial struggles.
CNBC posted on its website today that the network "wants to hear your story," launching an interactive feature called "Faces of the Recession," where "visitors can write about their recession experience and upload it to the site by using its easy-to-use tool." It'll even have its own page: recessionstories.cnbc.com. From now until September 30th, they'll be accepting stories about recession experiences, whether they be struggles or achievements. You can even share content through Facebook and YouTube!
NPR did a narrative style piece last week about three people – even including the specifics of their ages, what they're wearing, and their former jobs – and their struggles with being unemployed.
American Public Radio queried to its readers last week in its discussion board, "Has the recession forced you to start over?" The post generated 8 comments, half of which are at least a few hundred words long. All of them, though, are sob stories of people detailing how poor they now are ($5 food budget per day) to anyone willing to listen.
MTV is even cashing in on the cashless, recruiting people who were "hit hard by the current economic situation" to tell their stories on their documentary-style series True Life. While they normally cover steroid-users or anorexics, this version will be appropriately called "I Can't Afford My Lifestyle."
The blogosphere has been no exception to the recession story hype, with Columbia Journalism students starting a video-based site called DownsizeNYC.com and blogs like FacesOfTheRecession.blogspot.com, in which each post details the story of a person who has been laid off.
One thing the recession hasn't diminished is our culture of narcissism – even when we're poor, we still like to talk about ourselves! Fortunately, there are plenty of us in the media eager to listen.
Have a tip we should know? tips@mediaite.com