The Most Famous 'Anti-Establishment' Musician You've Never Heard Of (UPDATE: Wins Oscar)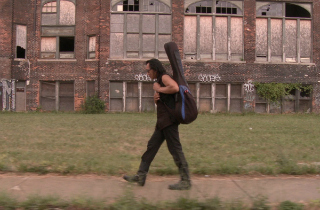 He's sold more records than The Rolling Stones. He's a bigger household name than Elvis Presley. And his music was considered the soundtrack of a massive civil rights movement.
His name is Sixto Rodriguez. He's a songwriter born and raised in Detroit, and yet somehow you've never heard of him.
And that's because all of the above acclaim and success happened not here, but in South Africa.
After releasing two critically-acclaimed but commercially-unsuccessful records in America during the early 70s, Rodriguez fell into relative obscurity. But unbeknownst to the songwriter, his fame somehow rose to monumental levels in South Africa. In a white liberal household, it was reportedly common to see his debut album Cold Fact on a shelf beside The Beatles' Abbey Road and Simon & Garfunkel's Bridge Over Troubled Water.
Rodriguez's lyrics dealt with some uncomfortable, darker elements that gave younger South Africans a new outlet of expression. At the time, army vets and college kids found Rodriguez's uneasy songs about drug use ("Sugar Man"), sexual promiscuity ("I Wonder"), disparate poverty ("Inner City Blues"), and anti-authority rage ("The Establishment Blues") to be comforting in a heavily sanitized, socially-repressed culture.
His poetically journalistic lyrics (coupled with his Bob Dylan-like cadence) spoke to a generation that had only then begun to realize it was okay to be "anti-establishment" and speak out against a repressive social system of apartheid. One South African journalist said that you could "talk to any early member of the anti-apartheid movement and they would tell you they were influenced by Rodriguez."
But his legend in the country remained mythological for decades. Rumors had spread amongst South Africans that he was such a badass that he committed suicide on stage — some accounts claimed it was with a gun, others claimed it was self-immolation. No one knew for sure. But it only served to fuel the image of an alienated wandering man, free from the repressive elements of money, social status, and race.
The mystery lived for decades until a record store owner and a journalist teamed up put the story to bed once and for all. They sought out Cold Fact's producer, and after digging through Rodriguez's lyrics, noticed a bunch of clues indicating that he was from Detroit.
Eventually they got in touch with the legend himself and found out he was alive and well in Michigan, working in construction after several failed attempts at public office and other odd jobs. He did tour once in Australia during the early '80s, but word of his aliveness had not yet reached most South Africans; and he still dwelled in songwriter obscurity amongst Americans.
Filmmaker Malik Bendjelloul's documentary about that search for Rodriguez is generating substantial Oscar buzz. The appropriately-named Searching for Sugar Man recounts how the two journalists set about to find the legend, and what they discovered upon meeting him. The film also explores the tragedy of how Rodriguez never saw a dime from the hundreds of thousands of records sold in South Africa. And how despite such seeming injustice, he doesn't seem to mind — his music reached millions regardless, and he is happy with a modest lifestyle.
Eventually Rodriguez made his way to perform sold-out arena concerts in South Africa where, despite his frail stature and eclectic old-man attire, he received a hero's welcome with fans shouting along to every word and delaying his songs with massive applause. The South Africans got it right — his only two albums are phenomenal lost gems. It is truly a shame he never achieved such legendary status here in the States.
But with the help of the phenomenal documentary, the 70-year-old may very well achieve that American success years later. With buzz mounting, Rodriguez now plays before sold-out crowds on both coasts. Older fans of his music come out of the woodwork to sing along to all his songs they had previously thought no one else knew; younger music geeks come out to see the enigmatic ghost that influenced some of their favorite indie artists. Crowds hush between songs to hear his soft-spoken folksy jokes and words of wisdom about women, sex, Mickey Mouse, and politics.
At the Newport Folk Festival this year, he played an indoor museum show before maybe 100 people. But undeterred by capacity limits, scores of attendees gathered by open windows to catch a glimpse of the man everyone is talking about — from actor Alec Baldwin to director Ron Howard to celebrity chef Mario Batali.
My significant other works for Sony Music, who released the soundtrack to the film, and so I've had the pleasure of meeting Rodriguez on multiple occasions. Years of hard labor have taken their toll on his body as he now requires assistance when walking, but the tendencies that made him an "anti-establishment" legend in South Africa still carry on.
While standing with him waiting for his performance at Newport, he overheard folkie Joel Rafael implore for the return of American troops on a nearby stage. "Yeah!" he shouted, nearly popping out of his chair to applaud such anti-war rhetoric. He describes himself as a "musical-political" to all interviewers who inquire about his views. And he still speaks with a slow, cool drawl that begs for him to finish sentences with "man."
Of course, these days he professes his support for President Barack Obama — "to save Social Security," he says. Not exactly an "anti-establishment" vote, but such a geriatric intention can be expected. And his influence on various social movements cannot be discounted.
Despite what seems like an American story of redemption from obscurity, the reality is that not everyone has ignored Rodriguez for the last four decades. Rapper Nas sampled "Sugar Man" on Stillmatic, his songs have been featured in several films, and indie darlings Animal Collective have spent years trying to revive his career.
So the truth is he's been hiding in plain sight. Most people just haven't been looking for him. At least until now.
Watch the trailer for Searching for Sugar Man below:
And his gorgeous performance on Letterman in August, via CBS:
— —
>> Follow Andrew Kirell (@AndrewKirell) on Twitter
Have a tip we should know? [email protected]