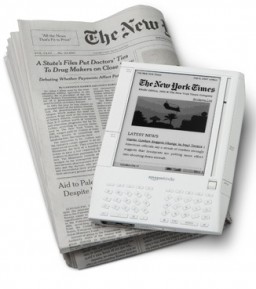 The end is nigh. Again. But will it be the end of free content across the board (I've long thought that once the New York Times makes the switch everyone else will take it as a a cue to follow), or will it be the end of the NYT dominance on the web? We shall see. Over the weekend New York's Gabe Sherman created a bit of a stir when he reported that the Times was planning on making a final decision re paid content within a matter of days, and that some sort of metered system would likely be implemented come spring.
Leaving aside the fact we have been hearing variations on this rumor for close to a year now (the pay wall always imminent, the implementation always a few month away) it's interesting to see how the news was greeted this time around. Not that long ago a NYT paywall elicited plenty of no way I won't pay responses, as we progress faster and further into the 2.0 world there appears to be less of that and more resignation on how to best apply to practice so as not to impede on the NYT.com relevance and traffic.
The NYT system should instead simply measure how much you used the site last month, and then bill you; my guess is that Apple, when it releases its new tablet later this month, will also unveil a system which makes it very easy to link your nytimes.com account to your iTunes account so that your NYT bill will simply get added on to your iTunes bill along with your apps and TV shows and music and ringtones. The NYT itself won't even need to collect your credit-card information. Once you reach a certain maximum billing level for the year, the NYT and Apple will just stop billing you.

And what of people who can't or won't pay? The NYT is an invaluable source of information for many people around the world who don't have credit cards or iTunes accounts. I think that in the first instance most countries outside the US (and maybe also Canada) should be exempt from having to pay anything.
I take it back. Jeff Jarvis is less than thrilled at the prospect of paying online for what he already pays for in print:
I think the risks are great and grave. The Times could have fought to become the preeminent news brand on earth, fighting it out with the BBC for that title. Instead, I fear, it will duck into its shell as the Washington Post has. I already pay for The Times at home. I hope they would not charge me again. If they do, I will cancel the paper. If they charge me for using the paper more, I will use it less.** I will find other very good substitutes for much of what I get from it — indeed, this will push me to discover and curate new sources.
Meanwhile Gizmodo picks up on Sherman's note that the timing of this latest rumor interestingly coincides with Apple's upcoming release of the Tablet.
The New York Times experimented with paid content before, without much success, but that's not stopping them from giving it a go again. This time, however, the paid-to-free content changeover might coincide with a certain unconfirmed mystery tablet. The NYT announcement is expected to arrive in the "coming weeks," which puts it smack dab in the middle of Apple's mystery product press conference, slated for January 27. Convenient!

According to New York magazine, the paid content model could also arrive hand-in-hand with an Apple partnership or distribution deal.
So yeah, maybe what makes it different this time around is that there will soon be available technology which makes it possible to pay without pissing too many reader off. Or not. We've been talkin NYT paid content for close to a year now…let's just say I'll believe it when they start asking for my credit card number.
Have a tip we should know? tips@mediaite.com