The Root Columnist Asks If Paul Ryan's Black Ex-Girlfriend Makes Him Racially Sensitive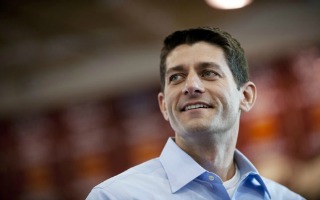 Keli Goff, a columnist with The Root, recently asked her readers if Republican vice presidential candidate Paul Ryan's black ex-girlfriend makes him racially sensitive. At the expense of spoiling the column for you, she answers her own question: no, probably not.

In the column, "Does Paul Ryan's Black Girlfriend Matter," Goff notes that Ryan's African American relationships include having a black sister-in-law and having dated an African American woman in college. She goes on to ask if Ryan's relationships suggest that he will advance racially sensitive policies. Goff concludes that, while Ryan's relationships are noteworthy, a politician's policy prescriptions are more relevant when evaluating their level of racial sympathy.
In the piece, Goff examines her own preconceptions about race and politics – she notes that she was surprised to learn that Fox Business Network host Lou Dobbs, who has for years railed against illegal immigration, is married to a Mexican-American woman and has Mexican-American children. To his credit, she writes, "he chose not to hide behind that."
But relationships alone do not exonerate a politically relevant figure from being guilty of racial insensitivity.
Goff recalls that Democrat-turned-Dixiecrat-turned-Republican South Carolina Sen. Strom Thurmond was financially and emotionally supportive of the mixed-race children he fathered with a black servant. However, in public, he was advocating for policies detrimental to the civil rights of African Americans.
To that end, it is misleading to judge a politician's racial sensitivity to their personal relationships with individuals with a minority background.
For the record: No, I am not calling Ryan a racist. I am saying, however, that if you want to know where a politician's heart lies when it comes to a particular community, it may be best to look at that person's policies — such as his or her record on civil rights — rather than personal relationships.
When saying voters should look to Ryan's record on civil rights, Geoff links to an earlier post in which she pointed out that the National Association for the Advancement of Colored People gave Ryan a 10 percent rating for the 2009-2010 legislative session. Nor, for that matter, does he "appear to be a fan of the poor." However, Goff writes that Ryan does celebrate Martin Luther King Jr. Day and thought having a black president was "cool."
h/t The Root
> >Follow Noah Rothman (@Noah_C_Rothman) on Twitter
Have a tip we should know? [email protected]