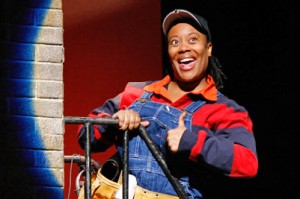 Today, beloved sitcom star and unfortunate tabloid punchline Gary Coleman tragically passed away at age 42. While many wonder what the actor's legacy will be (in this nice article, TV critic Alan Sepinwall hopes that he will be remembered for his amazing talent and not his off-camera struggles), part of him will live on tonight in performances of the hit musical Avenue Q. The show, which features a parodic version of Coleman as a character, has vowed not to change the show following his death. The question now is, how will audiences respond?
The popular show, which has run on and off Broadway and all over the world since 2003, has a fictional version of Gary Coleman (traditionally played by a woman) as a supporting character, the landlord for the rest of the cast. Coleman himself has gone on record as saying he's not a fan of the show or the depiction. In fact, in this video, he says that he "wishes there was a lawyer on earth who would sue them" for him. While he didn't like it, the show and the character were beloved by both critics and fans.
Many wondered, following Coleman's death, whether or not the show would keep the Coleman character. There are versions of the script without him in it for the West End production, so there is precedent. However, the questions were answered with this tweet from the producers: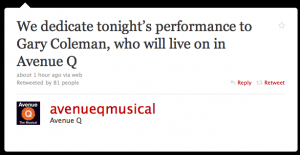 So "Gary Coleman" will live on even though Gary Coleman has left us. But will audiences still be able to laugh?
Below is a clip of the opening full-cast number of the show which features the Coleman character towards the end. It should give an example of the tone of the depiction.
Have a tip we should know? tips@mediaite.com