The View Panelists All Melt Down Arguing Over Skin Flicks: 'There's No Danger to Porn, People!'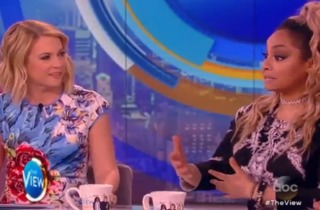 Christmas came early for the crew here at Mediaite because watching this unfold in real time was better than any present.
Today on the View, Melissa Joan Hart of God's Not Dead 2 fame was on the panel, as was Paula Faris. They are self-professed religious women. Also on hand were Sunny Hostin, Joy Behar, and Raven-Symoné. Behar led into the segment by claiming that a new study shows that those who watch a lot of porn also go to church more often.
What could go wrong, really?
Faris and Hart discussed guilt associated with porn before Hart called it addicting and Raven brought up Don Jon, a movie about porn addiction. (If you haven't seen it, I can't recommend watching it enough. It's on Netflix!) Hostin, for her part, said she looked at a site once and was floored by the amount of categories. Through this, Faris tried to get the conversation back on track with a statistic from "experts," and Behar brushed her off with a, "That doesn't interest me, really…"
That's when the train went off the tracks. Behar joked that the association with church made her unwilling to say "Oh, God!" in bed and Faris countered that she can still get on her knees. What even is this show?
Watch above to see the moment everyone starts loudly talking at once and Raven begins screaming, "There's no danger to porn, people! There is no danger!" Stick around to hear Hart start talking about geishas and Raven bring up fetishes.
Donald Trump is wrong about this show; it's a true cable gem.
[image via screengrab]
For more from Lindsey, follow her on Twitter.
Have a tip we should know? tips@mediaite.com