The White House On SOPA: 'We Will Not Support Legislation That Reduces Freedom Of Expression'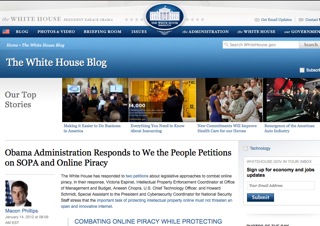 After the White House received two petitions on the controversial House bill Stop Online Piracy Act (SOPA), officials in the executive branch officially responded, highlighting that they support an end to piracy but will staunchly oppose any bill that impairs creativity or threatens freedom of speech. The response was posted on WhiteHouse.gov today and details what the next steps for the White House will be on the matter.
RELATED: As Major Companies Plan Blackout Protest, Where Has The Mainstream Media Been On Coverage Of SOPA?
The response, authored by Victoria Espinel, Intellectual Property Enforcement Coordinator at Office of Management and Budget; Aneesh Chopra, U.S. Chief Technology Officer; and Howard Schmidt, Special Assistant to the President and Cybersecurity Coordinator for National Security Staff, emphasizes the White House's desire to put an end to piracy as much as it does the concerns for freedom of speech. "We will not support legislation that reduces freedom of expression, increases cybersecurity risk, or undermines the dynamic, innovative global Internet," it reads, though adding that they would like to see some sort of law passed to help with the problem. It also adds that "any effort to combat online piracy must guard against the risk of online censorship of lawful activity and must not inhibit innovation by our dynamic businesses large and small." In particularly, the authors worry that "the DNS filtering provisions in some proposed legislation suggests that they pose a real risk to cybersecurity and yet leave contraband goods and services accessible online."
The other big news in the statement? The organizer of the petitions and some of the signers will be invited to discuss the matter with the White House:
While we are strongly committed to the vigorous enforcement of intellectual property rights, existing tools are not strong enough to root out the worst online pirates beyond our borders. That is why the Administration calls on all sides to work together to pass sound legislation this year that provides prosecutors and rights holders new legal tools to combat online piracy originating beyond U.S. borders while staying true to the principles outlined above in this response.

The organizer of this petition and a random sample of the signers will be invited to a conference call to discuss this issue further with Administration officials and soon after that, we will host an online event to get more input and answer your questions. Details on that will follow in the coming days.
As the bill is still in its fetal stages, there is no guarantee that it will be passed– and if it is, there is no way of knowing what, exactly, it will look like.
Have a tip we should know? tips@mediaite.com