'There's Not a Chance in the World': Chris Wallace Battles Jill Stein Over Recount Changing Results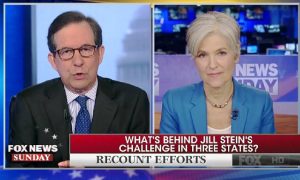 Green Party candidate Jill Stein and Fox News Sunday host Chris Wallace engaged in a pretty combative exchange today while discussing Stein's recount efforts, with Wallace trying to get Stein to admit that there have been no recounts that have switched tens of thousands of votes.
The interview started with Wallace wanting to know why Stein hadn't requested a recount in New Hampshire even though Hillary Clinton carried that state by a much more narrow margin than the three states she did request recounts in. Stein explained that it was because the deadline had passed for New Hampshire.
After Stein noted that she would look to expand the recounts to other states if they see a systemic issue regarding machine error and hacking, Wallace asked Stein if she knew the highest number of votes that had been switched via a recount.
When she brought up a situation with Toledo in 2004 where 90,000 votes were erroneously marked blank — she has brought this up before — Wallace explained that officially, the biggest change had been roughly 1200 during the 2000 Florida recount in that year's presidential election.
'There's not a chance in the world here, Dr. Stein, that the vote is going to change in those three states," Wallace exclaimed, pointing out the margin in Wisconsin, Michigan and Pennsylvania.
She continued to bring up Ohio and claim that with a hand recount thousands of votes can be counted and change the results in Michigan and Wisconsin.
The conversation eventually switched to the amount of money Stein has raised for her recount efforts with Wallace wanting to know if this was really just a fundraising effort by Stein. She contended that all money raised was specifically for recount efforts and kept in a separate account.
At one point, the two began talking over each other when Stein said she wanted the allow the views of the American voter to be heard and Wallace replied that the views were that Donald Trump was elected. It got more contentious when Wallace asked her about an upcoming press conference she has scheduled at Trump Tower and pressed her to say how many votes she received in the election.
Watch the entire interview above, via Fox News Sunday.
[image via screengrab]
–
Follow Justin Baragona on Twitter: @justinbaragona
Have a tip we should know? tips@mediaite.com