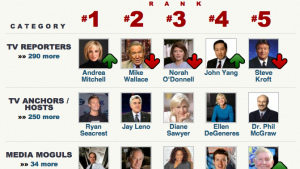 Remember when Mediaite launched in July 2009, with its Power Grid rankings of top media figures? It was met with equal parts fascination and fury. While some media critics didn't like the idea much (or just maybe didn't like being ranked themselves), the site crashed based on how many people were simultaneously checking where they landed on the list. Abrams Media then expanded it to the style and fashion worlds on Styleite, and sports on SportsGrid. Geekosystem and TheMarySue have their own versions of Power Grids. Love 'em or hate 'em, they have become a staple of the Abrams Media properties.
So you can imagine our surprise when we heard that The Wrap, a site that covers Hollywood and media, is creating a power ranking list called … 'The PowerGrid.' It will even have those aesthetically-pleasing up or down arrows, exactly the way our sites do.
Now, one could certainly argue that ranking people is not a new idea – and putting little arrows next to their pictures is hardly a novel concept – but, in addition to using the exact same name, this is how they are describing it:
"The PowerGrid ranks Hollywood's players based on facts, not on hype. It grades the success or failure of projects in real time. Every person, project, and company in the movie business gets a PowerScore based on ItsontheGrid's proprietary, data-driven formula, along with a PowerRanking that shows how much influence they have relative to their peers."
Compare this to the Mediaite Power Grid FAQ, which describes its "proprietary algorithm" as, "an objective ranking of roughly 1,500 known and important players in the media today":
"Unlike other media rankings, this system changes in real-time… Most important, each category has a different algorithm depending on what are the most important factors for that group."
We'll be the first to admit, our Power Grid isn't perfect (just ask Bret Baier, whose Power Grid profile stubbornly refused to update his true number of Twitter followers — now over 107,000 — for much of January), but that doesn't change the fact that this sure feels like a knock-off. Sharon Waxman, founder of The Wrap, tells Mediaite that the site announced the project 10 months ago, and pointed out that TheWrap.com's Power Grid hasn't even launched yet. She kindly asked that we exercise a little patience before judging.
And that we shall. Still, when it launches, one concern may pop up: Is this PowerGrid theft of Abrams' intellectual property?
We asked Dan Abrams — who not only owns this company, but also happens to be a lawyer and television legal analyst – if he had any plans to pursue legal action.
"I have to say that I was stunned when this was brought to my attention," he told us. "I have long been a fan of their site and, in particular, its founder, but this sure seems like an effort to benefit from the name recognition we have created for our power grid rankings. While their site is not currently a competitor in either content or scale, I am concerned it could create confusion among readers. This is a tricky area of law, but I will certainly be keeping a close eye to assess how much it mirrors what we do."
No matter how this ends up, one thing is almost comically certain: In the insane world of media following media, Sharon Waxman's Power Grid ranking, thanks to this story, will now go up. And, somewhere, a chill just ran down Bret Baier's spine.
Have a tip we should know? tips@mediaite.com