This 21-Year-Old's Living Nightmare on Thursday Proves Our Horrifying Digital Age Powerlessness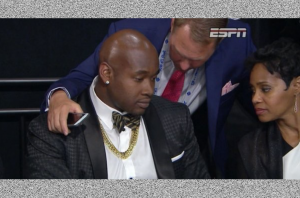 The biggest night of Laremy Tunsil's life was supposed to be the night that the 21-year-old from Ole Miss was drafted to play in the National Football League. At 6'5″ and 305 pounds, Tunsil was a stand-out recruit, widely expected to fall in the top 10 picks of the 2016 Draft, if not the top 5; lots of high-paying NFL franchises were in need of an offensive lineman, and Tunsil was clearly one of this year's best.
Then, just thirteen minutes before ESPN and the cameras of the world descended onto Chicago and the official start of Thursday night's event, Tunsil's Twitter account sent out a full-length video of the young football star wearing a gas mask smoking what most would assume to be marijuana. Given the remarkable expediency of the Twittersphere's ability to cripple people in mere minutes, sports media outlets — including ESPN, the very network carrying the highly-rated NFL Draft — began reporting on the video within moments. Here, in the spotlight he dreamed of since youth, Tunsil's photo of himself wearing a weed-consumed gas mask filled the full homepages of Deadspin, Gawker, Sports Illustrated, and eventually even the ESPN screens themselves in the middle of the Draft Day coverage.
Tunsil began to slip; teams erratically pivoted away from the suddenly high-risk prospect, who already dragged off-the-field lawsuit baggage into the Draft (this week, it was announced that his stepfather was suing Tunsil for an altercation last June, and further defamation of character in the months since then).
Then, another windfall of unprecedented public embarrassment for the kid whose life and career was already forever marked by controversy and suspicion.
Moments after the Miami Dolphins scooped up Tunsil at 13th — far below his initial Draft Day expectation — he sat for a live interview with ESPN Radio and was told that his Instagram account had sent out screengrabs of text message exchanges with Ole Miss coaches. The content of those messages was highly damaging, in part to Tunsil, but moreover to the football program at his soon-to-be-alma mater Ole Miss: evidence of Tunsil asking his coaches for money to help pay for incidentals, including his mother's electricity bill.
Ole Miss has long been under investigation for violating rules that, "…academic records were falsified and gifts were made by the school." The exchange of money from coaches, boosters, or club supporters to student-athletes in any capacity is illegal under NCAA rules, a highly-contentious debate at the heart of the absurdly-lucrative college sports universe.
Within the hour, Laremy Tunsil's full digital history was deleted and removed from public record, but not before his exploits had been quite literally broadcast to the entire world. ESPN cameras continued to cut to the young Tunsil, who impressively seemed to hold his cool together, although it didn't take a complicated playbook to see the clear anguish in the eyes of the young man whose innermost iPhone secrets had been hacked and revealed at the single most devastating moment of his life.
It's easy to criticize the young man, and there is certainly no shortage of snarky bloggers and media elites arguing that he "should have known better." But the real issue here is a hardened look at the hacking and release of personal information, a disastrous repercussion that is now a reality of our digital dependence.
Two years ago, we had the widely-circulated fiasco that became known as "The Fappening" or "CelebGate," the salacious collection of nearly 500 private, often-nude photos from celebrity's smartphones that had been hacked and released onto 4chan. It was a shocking breach of personal trust and it sparked a national conversation about personal security.
This was a night designed to reward the families of not only Tunsil, but an entire crop of young men who have sacrificed for the ultimate dream of playing at the heights of their industry. History will not remember that Cal's Jared Goff was picked first overall in 2016. In fact, the sad reality is that even Tunsil himself — who vowed late Thursday night, "I promise to work hard on and off the field," — is likely to forever be known for one calamitous hour of his life. His position on the O-Line means that at best he's destined for a career of relative anonymity (there are 44 Offensive Linemen in the NFL Hall of Fame. You can't name a single one of them). Tunsil can go to Miami and prevent quarterback Ryan Tannehill from getting a single grass stain on his white Dolphins jersey all season, and still he will only be known for a hapless tech snafu at the world's worst possible moment.
Laremy Tunsil is not deserving of rebuke or any sort of the humiliation he has received; god only knows how many of us have "bad behavior"-affiliated videos out there in the digital recesses that may be released later in our careers. On national television we watched a kid get destroyed by a set of circumstances out of his control. The investigations will continue into the hacking, and the controversy regarding Tunsil's stepfather (who has denied involvement in the social media dump) will not soon go away. But this unfortunate situation is only the latest example in a disturbing trend destined to cripple celebrities and stars with the most vulnerable weaknesses: their digitally-captured moments of normal humanity, on full display for the world to judge.
—
J.D. Durkin (@jiveDurkey) is a columnist for Mediaite.
[image via ESPN screengrab]
This is an opinion piece. The views expressed in this article are those of just the author.