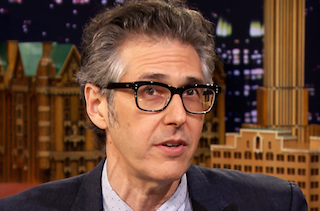 For fans of This American Life, there was something very familiar about the details of a same-sex marriage study that was retracted on Wednesday after the graduate student who conducted the initial research, Michael LaCour, was caught fabricating data. Just four weeks ago, a story about the study opened the episode titled "The Incredible Rarity of Changing Your Mind." Now, host and executive producer Ira Glass has retracted that portion of the weekly radio show and podcast.
In a blog post for This American Life's website, Glass explained that the show had only put out the story "because there was solid scientific data published in the journal Science – proving that the canvassers were really having an effect." But now that LaCour's co-author, Columbia University professor Donald Green has "asked Science to retract the study," This American Life would be doing the same.
Reached by This American Life today, Green said that LaCour would not admit to "falsifying data" but could not produce the supposed 9,507 surveys he claimed to have collected. And he did admit that he never received grant money nor paid survey respondents as he had originally claimed. What's worse is that canvassers who spent hundreds of hours visiting people's homes based on LaCour's data now say they are "blindsided" by the revelations, which means their work was essentially a waste of time.
"This is the thing I want to convey somehow. There was an incredible mountain of fabrications with the most baroque and ornate ornamentation. There were stories, there were anecdotes, my dropbox is filled with graphs and charts, you'd think no one would do this except to explore a very real data set," Green said. "All that effort that went in to confecting the data, you could've gotten the data."
The conclusion of the study, that door-to-door canvassers can change people's minds about same-sex marriage with just a 22-minute conversation, has now been discredited. But, as Green told Glass, "Just because the data don't exist to demonstrate the effectiveness of this method of changing minds, doesn't mean the hypothesis is false. And now the real work begins."
Other publications that covered the original study, including Vox, The Washington Post and The Huffington Post, have all appended notes to their respective stories acknowledging the retraction.
And this is not the first time This American Life has had to go back and re-report a story that turned out to be false. In 2012, the show was forced to apologize after monologuist Mike Daisey admitted that details in his story about visiting an Apple factory in China were fabricated. Glass dedicated an entire subsequent episode to unpacking how the show was misled.
In his blog post today, Glass wrote of the same-sex marriage study, "The apparent fakery was discovered by researchers at UC Berkeley and Stanford who tried to replicate the findings in the original study. How they figured it out is a great story in itself." Don't be surprised if he already has reporters talking to those researchers for a future episode.
Listen to Episode 555 of This American Life at thisamericanlife.org.
[Photo via screengrab]
— —
>> Follow Matt Wilstein (@TheMattWilstein) on Twitter
Have a tip we should know? tips@mediaite.com