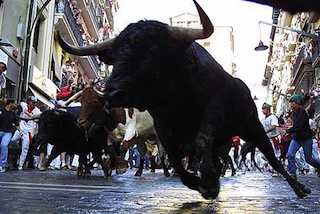 Sick of Europe leading the way in the "Foolish People Willfully Putting Themselves In Horrible Animal-Caused Danger" industry, some Americans are ready to fight back. The town of Cave Creek, Arizona is looking into what is needed to start their own running of the bulls akin to the annual event in Pamplona, Spain. The American event, if held, will take place in a quarter-mile arena, will use rodeo bulls, and will be, according to the promoters, "safer" than the Spanish one.
Proof of just how safe it will be can be found in the fact that they need $3 million just for insurance.
It's that insurance that's become the biggest hold up for the event. The lead promoter was only willing to pay $2 million for it which has led the town to rescind its permit.
From The Arizona Republic:
"Mayor Vincent Francia said a special-event permit was revoked because promoter Phil Immordino would not provide sufficient insurance coverage.

Immordino neither agreed to the town's insurance terms nor showed up to a recent council meeting when concerns about the run were discussed.

Francia said a running of the bulls is fitting to Cave Creek, known for its equine and Wild West lifestyle, but the town couldn't sanction it under the circumstances and may consider stopping the event because of safety and insurance issues.

'The bull run was on my list of wishes for the town. It would be nice to be a part of because it is so Cave Creek,' Francia said. 'But when you don't show up for a meeting, that is a red flag.'"
What? He didn't show up to his own council meeting? Gosh, it's almost enough to make you think that the guy putting up $2 million to organize his own American running of the bulls is somewhat eccentric.
Fortunately, the event was planned to be held on a private property so it could still take place even without the permit. However, will it ever work? The event in Pamplona is famous so it has no problem attracting runners. But will this little start up in a small town in Arizona find enough Americans who are willing to sacrifice their own personal safety just for a fleeting chance at glory. What if they don't get enough contestants?
…actually, on second thought. I don't think it'll be a problem.
(h/t Drudge Report)
Have a tip we should know? tips@mediaite.com