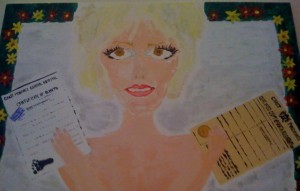 The recent emergence of Donald Trump as a possible presidential candidate and ringmaster of the Magical Birth Certificate Mystery Tour® has thrust the Birther movement into the national spotlight once again. Beyond Trump, though, there's a teeming Birther subculture with its own cast of characters, including Lucas Daniel Smith, whose nude painting of Orly Taitz just sold for $350 on eBay.
Beneath the Birther movement's surface lurks a dizzying array of shared delusions, competing claims, and intramural debunkage that you could scarcely keep track of with a stack of scorecards. Blogger Patrick McKinnion has been doing a great job of chronicling the drama since the movement's early days, and he uncovered a gem from minor Birther celebrity Lucas Daniel Smith, in an affidavit on behalf of Congressional disturber of the peace Theresa Cao.
In describing his quest for the Kenyan birth certificate that even World Net Daily dismisses, Smith describes an encounter that, as McKinnion notes, reads like a bad Penthouse Letters submission:
We left the restaurant and walked to her home which was nearby. I was looking forward to hearing all about Barack Hussein Obama"s birth in Kenya.

As we entered her home she asked me to please take a seat. She walked into the bathroom, left the door open, and to my astonishment she began to disrobe. She then called me into the bathroom. I entered and started telling her that I was a married man and that I was only interested in hearing more about Barack Hussein Obama's birthplace in Kenya. She then striped herself of her under garments, told me to wait for her, and gracefully stepped into the shower. I then stepped out of the bathroom and took my seat in the other room again. I really didn't know what to do. I wanted to get her story but I wasn't prepared to trade my body for her account of Barack Hussein Obama's nativity story.
You can find out if the story has a happy ending here.
Smith is also the artist behind "Orly Taitz and Her Exhibits," a tasteful nude that depicts Birther crusader Orly Taitz, topless, holding a pair of Kenyan birth certificates. In a bizarre accompanying document (which also covers the urinating and defecating habits of pigs), Smith admits the painting "may be a little comical," but insists that "no aspect of this proud painting can be construed as grotesque or defaming, slanderous or libelous."
It's truly difficult to tell if Smith is trying to satirize Taitz, whom he accused of suborning perjury a few years back, because the rest of his writing is so earnestly loopy.
The painting sold Tuesday for $350, to an eBay user who really ought to consider a quick turnaround to Donald Trump. "Orly Taitz and Her Exhibits" would make a great backdrop for his Celebrity Apprentice boardroom.
With Trump's Birther assault showing no sign of a letup, despite his self-professed reluctance to discuss the subject, expect the media, and the public, to become better acquainted with this subculture, and its colorful characters.
Have a tip we should know? tips@mediaite.com