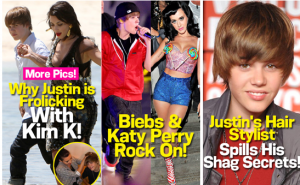 Confession: I sort of love HollywoodLife. I can still remember the first time Bonnie Fuller's Us Weekly mesmerized me at the checkout counter (it was a Britney cover, I will admit that) and I have always been super-partial to the irresistible color combo of bright yellow and hot pink. I don't always know who the people mentioned on the site are (AnnaLynne McCord? Vienna Girardi?) but do enjoy finding out the latest about what R.Patz and the gang have been up to.
That said I double-taked the other day at this tab on the homepage: Biebz. In addition to "News & Gossip" (the homepage), "Style & Beauty" (actually, that is a pretty great bbq outfit), "Hollyscopes" (apparently my mental energy is a little quieter and more relaxed than usual), "Win!" (summer hair Rx!) and "Pics" (hello, The Situation and your washboard abs), there is also a tab dedicated to Justin Bieber, in all his shaggy Canadian glory: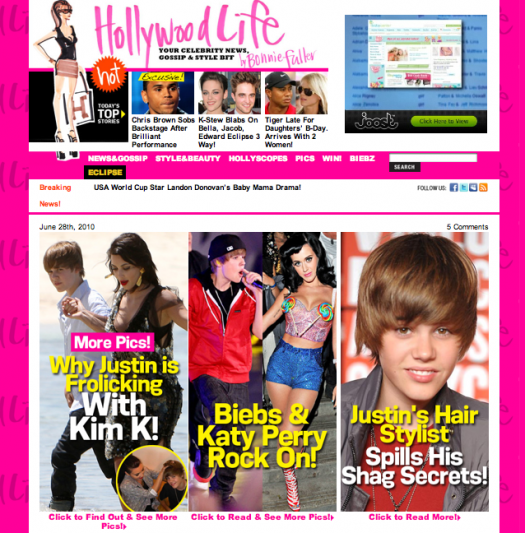 Here it's all-Biebz-all-the-the-time, where you can read about how he was with two girls in one weekend (TMI), how Harry Potter heartthrob Daniel Radcliffe thought Bieber was a girl, how his hairstylist spills his shag secrets (unintentional headline entendre, I'm guessing). As they say, "Once you have Bieber Fever, there's no known cure."
To be fair, I should note that there is also an "Eclipse" tab – but that's for a blockbuster movie franchise, not even for R.Patz himself. Does the power of R.Patz pale before the Biebz? To be honest, I never thought of it before. Judging by who gets a super-special tab on Hollywood Life though, I'm gonna say the Biebz could take both the Vamp and the Werewolf, easy – maybe while he was taking two girls in one weekend. Er, perhaps that was an unfortunate turn of phrase.
Let's clean it up with this headline, which is by far my favorite: "Justin Bieber's Mom Keeps It Classy and Says She Won't Pose For Playboy." Phew! Perhaps Dina Lohan should read this page more often.
Related in "This Exists: Justin Bieber Edition" – CountdownTilJustinBieberTurns18.com. Warning: When you click on it, it will play "Baby," so be warned lest you suddenly blast it in your office and then have to explain. Upside: Insta dance-party!
From CountdownTilJustinBieberTurns18.com. Get excited – that timeclock is ALREADY out of date!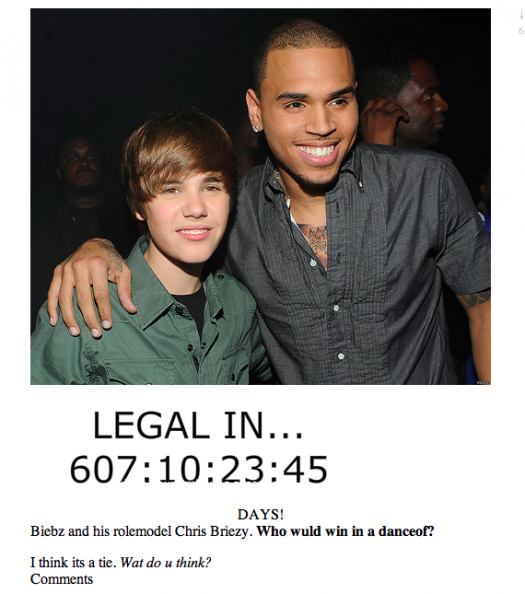 p.s. Justin Bieber is Canadian.
p.p.s. Geekosystem editor Robert Quigley informs me that this also exists: http://www.buzzfeed.com/biebfeed. It's pretty funny.
p.p.s. Bieber and his girlfriend, Caitlin Beadles, can be referred to as "Bieber n' Beadles." Is it me or does that sound like a store in Diagon Alley?
Have a tip we should know? tips@mediaite.com