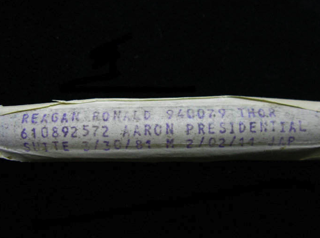 People sell lots of weird things on auction sites, from eBay to Sotheby's, but this bit of presidential history might be a bit more macabre than most. For some reason, someone has preserved a vial of blood taken from President Ronald Reagan, hospital-labeled and all, and is ready to part ways with it. Incredibly (or perhaps not so incredibly on the internet), the bidding is quite hot for this item!

RELATED: Obama Overtakes Reagan As Most Televised President In History
The bottle's origin, according to its owner, is from the 1981 assassination attempt and had been kept in the family as a relic. In a somewhat convoluted story, the owner notes that there was contact between the Reagan family, the government, and the owner and all was clear for the bottle to be sold without conflict. The vial comes with a number of verification documents. Here is what you will get if you are the highest bidder, as per the auction item description:
A 3½" x 1" white label has been affixed to the vial. It is printed, in purple ink, "REAGAN RONALD 940029 THOR / 610892572 AARON PRESIDENTIAL / SUITE 3/30/81 M 2/02/11 JAP." 940029 was Reagan's patient ID. AARON refers to Benjamin L. Aaron who was Chief of Cardiovascular and Thoracic Surgery at George Washington University Hospital where Reagan was in the Presidential Suite. THOR refers to thoracic. Reagan was admitted on March 30 1981 and M refers to male. The President's date of birth is incorrectly stated as "2/02/11" when his actual date of birth is February 6 1911.

A second white label, this time printed in green identifies the manufacturer of the vial as "BD / Rutherford, N.J. 07070" – Becton, Dickinson and Company – and "Sodium Heparin / Sterile Interior." The interior of the tube wall is coated with the anticoagulant sodium heparin which inhibits clotting. This BD "vacutainer" label is filled out in black felt tip marker: "For lead level / Draw 15ml + invert."

The vial is accompanied by a 7" x 5½" printed form on light green paper headed "Bio-Science Laboratories," filled out in ink: [Patient] "REAGAN RONALD" [Ident No.] "940079" / [Patient's Age] "70" [Sex] "M" / [Referring Physician] "AARON" / [Total Number of Containers Submitted for this Specimen] "3" / [Dates of Collection] "4-6-7" / [Name of Physician, /Hospital or Lab.] "William L. Marsh MD / Geo Washington un Hp / 901-23rd Street NW / Washington DC 20037." Dr. William L. Marsh was the Director of Laboratory Medicine at the George Washington University Hospital. [Other Tests or Instructions?] "LEAD LEVEL" No tests desired are marked in the list printed at the right. Reagan's Patient ID number, 940079, is circled in green felt tip. At the right, on the printed listing of tests, a notation in green felt tip reads "622 / Int- / BSx – M – Vitol." Sixteen branches of the Bio-Science Laboratories are listed on verso, including the Baltimore/Washington Branch in Columbia, Maryland.
The current bid on the vial is £7,587.00, presumably among cloning scientists or witch doctors (no one else would want just a vial of blood laying around, right?). NBC notes that not everyone is happy about this, particularly the head of hospital personnel during the time Reagan was admitted to GW Hospital, who called the entire thing "unethical" and outrageous.
Have a tip we should know? tips@mediaite.com