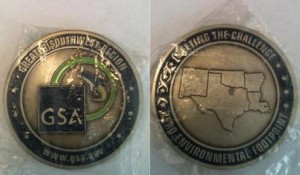 The scandal surrounding the 2010 Governmental Services Administration's 2010 Western Regions Conference continues to provide ample viral video and cable news fodder, but now, you can own an authentic piece of this scandal. One of the more symbolic details to emerge from the Inspector General's report on the conference was the $6,325 that was spent on commemorative coins, one of which you can now own if yours is the winning bid on eBay.
As Jon Stewart pointed out, the only thing more galling than wasting taxpayer money is wasting taxpayer money on fake money commemorating all the money you wasted. Here, though, is a chance to take those lemons, and make some lemonade. One of the coins mentioned in the Inspector General's report is available for sale on eBay, and the bidding stands at just ten bucks right now, with no takers. The sellers doesn't seem to know what they have on their hands, though, as the item is listed simply as a "General Service Administration [GSA] Challenge Coin," with no mention of the scandal.
Can you think of a more perfect gift for the political junkie in your life? Admittedly, it's no crusty blue dress, but it is a genuine piece of a current political scandal, and for that price, it's a steal.
There is a slight caveat, though. According to the IG's report, "GSA spent $6,325 on commemorative coins "rewarding" all conference participants (as well as all regional employees who did not attend the conference) for their work on Recovery Act projects, along with velvet boxes to hold the coins."
This coin doesn't appear to be one that was handed out at the conference, but rather, to employees in the Greater Southwest Region, for work on its Zero Environmental Footprint initiative. Still, it's part of the scandal, and there can't be more than a few hundred of these around, if that many. I've reached out to the GSA's Greater Southwest Region for more information on this coin, and am awaiting a response.
If this auction does well, perhaps there can be a silver lining to all of this. The government can collect back all the rest of the medals, auction them on eBay, and use the proceeds to hire a better mind-reader for the next conference.
Have a tip we should know? tips@mediaite.com