This Happened: Indonesian Airline Applicants Checked For Breast Implants During Interview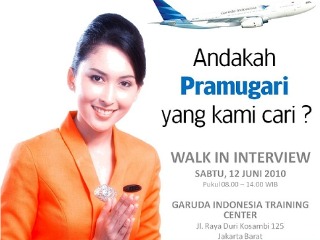 A woman who applied for a hostess position with Indonesia's Garuda airlines is coming forward with allegations that she and dozens of other applicants were checked for breast implants and tattoos during the job interview process.
The woman — who remained anonymous because she'd still like a stab at that job — says applicants at the airline's South Korean branch were made to remove their tops and bras so that interviewers could examine their breasts. An airline official actually confirmed the allegations and said the check was carried out due to concern for the women's health and safety, as breast implants can react to changes in air pressure. Moreover, members of the cabin crew are barred from having tattoos… Even, we guess, the sort passengers will (probably) never see.
A spokesperson for another airline, Korean Air, expressed some doubts about the practice: "We've never heard of or done such check-ups on flight attendants but I wonder if this means that passengers with breast implants should not fly also."
A spokesperson for Garuda, meanwhile, called the allegations "embarrassing" and said the company is looking into the matter. Breast checks, the spokesperson clarified, are not part of the application process or medical test. Garuda's official site contains no mention of the incident (but they have added 99 extra flights!).
A word of advice to women who find themselves in a similar situation: If you have any serious concerns or suspicions about anything asked of you during a job interview, please don't do it. Ask to speak to a manager or other superior at the company, or call to report the interviewer. Because that Pap smear? Probably not routine.
h/t Daily Mail
Have a tip we should know? tips@mediaite.com