'This is Despotism': Twitter Reacts to President-Elect Trump's Flag Burning Tweet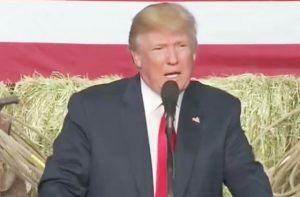 Earlier today, President-elect Donald Trump once again set the news cycle on fire with a tweet when he stated that flag burning should lead to a year in prison or perhaps even the loss of American citizenship.
As expected, this led to much discussion on the cable news morning shows. A member of Team Trump, Jason Miller, battled with CNN's Chris Cuomo over the constitutionality of Trump's assertion, with Miller passionately defending the President-elect. Meanwhile, the hosts of Morning Joe seemed largely on board with Trump's tweet, saying it was pretty much in line with popular opinion.
Over on Twitter, there was quite a bit of outrage and backlash over Trump's comments. Independent presidential candidate Evan McMullin remarked that this showed the incoming POTUS was looking to take rights away from Americans.
All Americans must stand up to @realDonaldTrump's rhetorical and literal violations of our rights and democratic norms.

— Evan McMullin (@Evan_McMullin) November 29, 2016
David Frum wondered what Trump would do to journalists:
If Trump wants to imprison flag-burners, imagine what he'll try to do to journalists who report on his corruption

— David Frum (@davidfrum) November 29, 2016
Some made it known that this was yet another distraction by Trump:
Trump's not going to amend the constitution to strip citizenship from flag burners. He'll sign a bill stripping health care from millions.

— Matthew Yglesias (@mattyglesias) November 29, 2016
trump could tweet more about ohio state or aleppo or the robust economy but he chooses flag burning. judge why for yourself

— Christopher C. Cuomo (@ChrisCuomo) November 29, 2016
We also had responses that the main issue wasn't that Trump was against flag burning but rather that he was looking to strip citizenship:
The ? story ? isn't ? flag ? burning ? it ? is ? Trump ? wanting ? to ? strip ? citizenship ? and ? voting ? rights ? from ? dissidents.

— Ian Millhiser (@imillhiser) November 29, 2016
Yes. Trump's desire to criminalize flag-burning has long been mainstream in both parties. Citizen-stripping for it: most definitely not. https://t.co/Mo5JKXQ68q

— Glenn Greenwald (@ggreenwald) November 29, 2016
Donald Trump just casually proposed taking away someone's American citizenship for burning a flag. Stop pretending Clinton ever did that.

— Elliott Lusztig (@ezlusztig) November 29, 2016
There was also discussion about how it showed fascistic and authoritarian leanings by Trump:
Today's choice for outrage:
A. A stupid tweet about flag burning that makes Trump sound fascistic.
B. Privatizing Medicare.
C. Both.

— David Corn (@DavidCornDC) November 29, 2016
Trump has attacked citizenship from Day 1: Obama not American, Mexicans born here, Muslims, flag burners. This is despotism.

— Justin Miller (@justinjm1) November 29, 2016
There was at least one person who believed this was a way for Trump to get more people to burn flags at anti-Trump protests:
Ok whoa. The burning flag statement is ONLY to get video of anti-Trump people burning flags to use as propaganda. 100% serious. Pls RT.

— Summer Brennan (@summerbrennan) November 29, 2016
And another who noted that his tweet corresponded with a Fox News segment about flag burning:
Timing of Trump's tweet lines up w/ Fox segment at 6:25AM on students burning the flag https://t.co/W7G4Hlw1O6 https://t.co/8M0AC4EfQy

— Katherine Faulders (@KFaulders) November 29, 2016
But as Josh Barro pointed out, Trump is hardly the first person who ever used this as a wedge issue:
People act like Trump invented the idea of using flag burning bans as a wedge issue.

— Josh Barro (@jbarro) November 29, 2016
[image via screengrab]
–
Follow Justin Baragona on Twitter: @justinbaragona
Have a tip we should know? tips@mediaite.com