This Is News: Republican Vice-Presidential Candidate 'Believes' Obama Born in Hawaii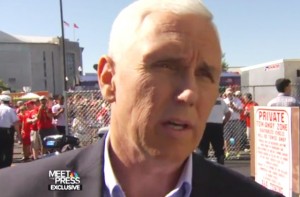 Although it hasn't come up much this time around, Republican presidential nominee Donald Trump made the issue of openly-black President Barack Hussein Obama's citizenship the major issue of his 2011 flirtation with a run for the presidency. Well, it's 2016 now, and Donald Trump's running mate, Governor Mike Pence (R-IA), won't say Trump should apologize, but did make headlines by stating his own belief that Barack Obama was born in Hawaii. From Politico:
Pence breaks with Trump, says Obama born in Hawaii

Pence did not say, when asked, if Trump should apologize for the comments. "I think Donald Trump's record both as a business man and as a political leader and as a patron in supporting minority efforts and particularly supporting the advancement of the African American community really speaks for itself," he said.

…"Well I believe Barack Obama was born in Hawaii, I accept his birthplace," Pence told reporters during a brief gaggle aboard his campaign plane before a fundraising event here. "I just don't know where he's coming from on foreign policy and on economics and on Obamacare."
This is news because in the Republican Party, the fact that a fact is a fact doesn't mean that you believe it, as poll after poll has shown huge chunks of the Republican electorate who still don't think President Obama was born in the United States, which is how you end up with a potential vice president who can only say he "believes" something that is, in fact, not a matter of belief.
Have a tip we should know? tips@mediaite.com