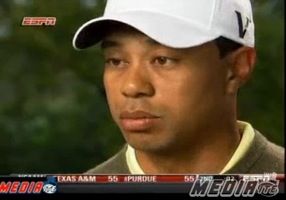 Tiger Woods is a phony. Plain and simple. I've finally come to terms with it. Everything he says and does is a business move.
Let's get some things straight — Woods' five-minute interviews on Sunday with ESPN's Tom Rinaldi and the Golf Channel's Kelly Tilghman were just the next phase of the carefully planned PR charade to prepare for his return to golf at The Masters. But more important, it was another step to regain control of the situation.
While apparently there were no restrictions set on the questions, Rinaldi and Tilghman, who were hand-picked by Team Tiger, were confined to five minutes with Woods. (Tilghman shrewdly pushed her session to six minutes.) That's right, five measly minutes. What a joke. At this point, five hours wouldn't suffice.
So why did ESPN and the Golf Channel comply with Team Tiger's demands? Because, well, what network in their right mind would actually turn down the first interviews with Tiger!? Actually, CBS would. And did. (Go figure, journalistic integrity still exists!)
When CBS received the call with the same offer, Sean McManus, who runs both the networks' news and sports departments, declined the opportunity. Earlier this month in an interview with Sports Illustrated, McManus proclaimed that Woods' first tournament back would be the biggest media event other than President Barack Obama's inauguration over the past 10 or 15 years. He added, "If the opportunity came up for an interview with Tiger for '60 Minutes,' I would not turn down that opportunity down." CBS Sports spokesperson LeslieAnne Wade explained, "Depending on the specifics, we are interested in an extended interview without any restrictions on CBS."
Bravo to CBS for not playing by Woods' ludicrous rules. Despite the tragic truths that have materialized in the past four months, it still appears Woods is out of touch with reality. Turns out, what we thought were botched PR moves have actually been a brilliant plan to regain sympathy, favor and control. But he's delusional if he thinks two short interviews is satisfactory. Who does he think he is? Tiger Woods? Apparently.
Since the fateful night after Thanksgiving when Woods crashed his Escalade within pitching wedge distance from his driveway and the onslaught of allegations grew with each alleged mistress that stepped forward, we've waited for Woods to answer questions. But for nearly three months, other than some robotic statements posted on his website, there was nothing but silence, forcing us into hyper-speculation mode. Then came the announcement Woods would speak to the public for the first time to "a small group of friends, colleagues and close associates at the TPC Sawgrass Clubhouse in Ponte Vedra Beach, Florida," and apologize for his behavior. But Team Tiger set absurd ground rules, asserting Woods would take no questions and only six members of the media could attend, three of which were selected.
Naturally, this stirred an upheaval — Woods still didn't get it. Hadn't he received the memo? The rules of the game had changed. Since the scandal broke, golf writers have had their credibility questioned for allowing Woods to skirt the tough questions. The formerly passive golf media which let Woods call the shots for the past 13 years weren't going to give him the kid glove treatment any longer. No more ooo-ing and ahh-ing at every word he uttered. No more polite laughs at his non-answers at his obligatory press conferences. So when Team Tiger left the three remaining spots for the board members of the Golf Writers of Association to fill, they decided to boycott the farce.
In an atmosphere that felt more like a politician resigning from office, Woods gave his humiliating "I'm deeply sorry" speech, where he basically read a soliloquy loaded with words like "selfish," "irresponsible," "foolish" and "embarrassed." After watching his speech more times than I'd like to admit, I decided he seemed sincere enough and more than anything, I wanted to believe him. Because, well, everyone deserves a second chance. Or even a third, fourth and eighth in some cases.
Woods also provided a vague timeline for his return to golf, saying "I do plan to return to golf one day. I just don't know when that day will be. I don't rule out that it will be this year." Before this, I was 100% sure he would return for The Masters, but seeing his fragile state, I started having my doubts. But boy, he sure fooled me.
Last Tuesday he released yet another robotic statement, "After a long and necessary time away from the game, I feel like I'm ready to start my season at Augusta." So basically he discredited everything he said in his mea culpa because if he really wanted to focus on repairing his personal life, he would take another few months off, or, hell, even the year. Looking at his schedule over his career, he only missed four tournaments. And of course he would choose to play his first tournament at The Masters, where the green-jacket-wearing officials will toss out an unruly spectator faster than you can say, "Cheetah Woods."
Which brings us back to Sunday's question-and-answer sessions. So, what did we learn in the collective eleven-ish minutes? Absolutely nothing new (except how dangerous it is to stop meditating). Because you can't cover much of anything in that time span. Rinaldi and Tilghman both did their best, but before they even started the interviews, there was no way they were going to receive comprehensive answers from Woods. And that was the point.
So what happened on November 27? "It's in the police report," Woods replied. Actually it's not. When the first responders arrived to the scene, Woods' wife, Elin Nordegren, handed officers two bottles of pain pills she said Tiger had taken earlier in the day. Also, as the Orlando Sentinel pointed out, the investigation by the Florida Highway Patrol was stonewalled by multiple people. When the FHP went to procure hospital records, officers were told the records department was closed and they'd have to return Monday.But then they were told they needed a warrant, but Assistant State Attorney Steve Foster said there was insufficient evidence. (Apparently hitting bushes, the curb, a fire hydrant and finally a tree 350 feet from your house at 29-37 mph doesn't meet requirements for suspicion of driving under the influence.)
How did you manage to drive so poorly pulling out of your driveway, something that's analogous to tapping in a three-footer? That's also a private matter. What were you in treatment for? Again, a private matter. Point being, Woods won't answer any questions that he considers "between him and Elin." Despite opinion to the contrary, it is our business when laws might have been broken, as the evidence appears to suggest.
Do I care that he cheated? Not really. Sure, I'm disappointed, but he's certainly not the first wealthy, successful man stepping out on his marriage, so color me five shades of not-so-shocked when the news broke. But what really bothers me is that I bought into the charade. Well, I'm done and I'm over this personality called Tiger Woods. Don't get me wrong, I'm still a fan of Tiger Woods, the golfer. I will still cheer for him on the course (maybe not as loudly). Hell, I'd love to see him win The Masters. But just because he's apologized doesn't mean we should reward him with a big fat gold star and regress to blind hero worship (like the fine commentators — with the exception of John Hawkins — on the Golf Channel already have). Nor does it mean people won't continue pressing him for questions.
Let's look forward to him returning to golf and to performing the heroics on the links. But let's also not be too quick to forget he's still a cad when he sinks a clutch 25-footer at Augusta next month.
Video of Tiger Woods' interview on ESPN last night:
Have a tip we should know? [email protected]