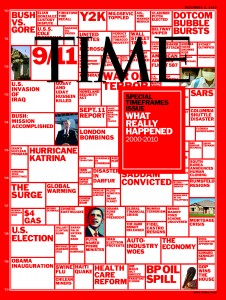 Ten years ago, Arianna Huffington was best known for appearances on the now-defunct Politically Incorrect, Tina Brown was throwing lavish parties for the now-defunct Talk magazine. Meanwhile, Time was chugging along, covering news and politics just as it had been for decades. It's this that the publication is trying to seize upon with its new TimeFrames initiative, which begins with a new issue that looks back on the magazine's coverage of the last decade.
The special issue touts itself as a "revealing return to the stories that shaped the past ten years," something of an homage to the fact that it even has ten years of stories in an era of start-ups and meltdowns. But the issue also wants you to think of today; the cover organizes the contents of the issue in a manner that resembles a tag cloud, with "9/11." Hurricane Kartina," and "BP Oil Spill" being among the largest topics.
Time is no stranger to one-off "special" issues, but this ploy smells of something larger than an editorial pat on the back—it's more of a rebranding campaign. The TimeFrames homepage is organized into slickly designed departments like "Politics," "China," "Religion," etc., all of which come with arty pictures that have the magazine's signature red border tucked into them. At least one picture evokes the work of Christo and Jeanne-Claude. In all, TimeFrames seems like a conservative redesign (unlike Newsweek's rather risky one), intent on convincing readers that Time is at once relevant and historic.
Whether the strategy will successful distinguish itself from its peers—especially since the historic Newsweek merged with the relevant Daily Beast—will be anyones guess. You can take a look at what may or may not be Time's final "decade in review" issue here.
Have a tip we should know? tips@mediaite.com