#TimesUp Twitter Rips Gary Oldman Over Domestic Abuse Allegations After Oscar Win: 'Miles to Go For #MeToo'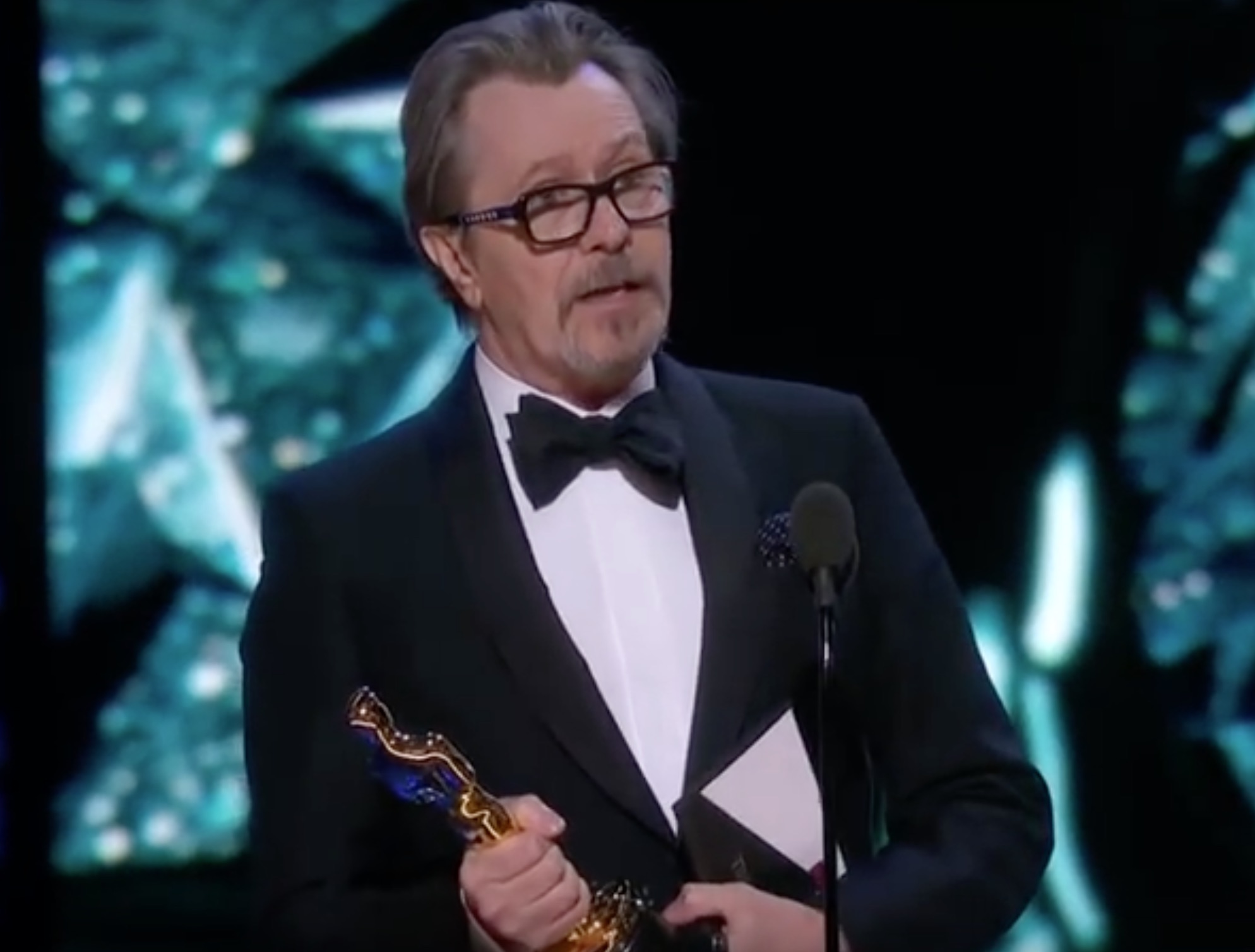 Gary Oldman is taking heat online over alleged domestic abuse after winning his first Oscar at the 90th Academy Awards.
Oldman, who starred as British Prime Minister Winston Churchill in Darkest Hour, was accused back in 2001 by his then-wife Donya Fiorentino of assaulting her with a telephone in front of their children.
"As I picked up the phone to call the police, Gary put his hand on my neck and squeezed. I backed away, with the phone receiver in my hand. I tried to dial 911. Gary grabbed the phone receiver from my hand, and hit me in the face with the telephone receiver three or four times. Both of the children were crying," Fiorentino alleged at the time.
Oldman has denied the allegations.
Here's a sampling of the Twitter reaction:
It's the year of #metoo and Gary Oldman and Kobe Bryant still win Oscars

— Chelsea Devantez (@chelseadevantez) March 5, 2018
GARY OLDMAN'S WIFE SAID HE BEAT HER WITH A TELEPHONE WHAT EXACTLY IS TIME FUCKING UP FOR ACADEMY? #metoo #timesup #oscars

— Jaclyn Friedman❄️ (@jaclynf) March 5, 2018
The Oscars having Jane Fonda and Helen Mirren give a stirring #MeToo speech and then making them give the Oscar to Gary Oldman playing Winston Churchill is richly symbolic

— Jack Mirkinson (@jackmirkinson) March 5, 2018
In the same year as #MeToo& #TimesUp:
-Sam Rockwell won an Oscar for Three Billboards & didn't mention violence against women
-Gary Oldman & Kobe Bryant won Oscars
-Reporters in press room were asked to keep questions about Oscars only
-Ryan Seacrest hosted the red carpet

— Krystie Lee Yandoli (@KrystieLYandoli) March 5, 2018
With Kobe Bryant and Gary Oldman winning their #Oscars, looks like Academy is hellbent on rewarding rapists and wife beaters. Miles to go for #MeToo

— T a z e e n (@tazeen) March 5, 2018
very rich that gary oldman and kobe won in what should have been the season of #metoo #timesup

— Alex Scoville (@AlexScoville) March 5, 2018
Me to the women near me in the interview room- So Kobe Bryant is a rapist.
Answer- Yeah.
Me- so Gary Oldman is a wife beater.
Answer- yeah.
If these guys come into the interview room there is potential for fireworks.#timesup

— Melissa Silverstein (@melsil) March 5, 2018
GARY OLDMAN VIOLENTLY BEAT AND CHOKED HIS EX WIFE WITH A PHONE CORD #TIMESUP MY ARSE!!

— Camilla Blackett (@camillard) March 5, 2018
Oh no!! Getting tweets that Gary Oldman is an accused wife beater. That's sad. Welp. Time better be up for him. #TimesUp

— Such (@SuCh) March 5, 2018
Last year, alleged sexual harasser Casey Affleck won Best Actor at the #Oscars. This year, alleged domestic abuser Gary Oldman won.

We have learned nothing of #TimesUp or #MeToo.

— Andrea González-Ramírez (@andreagonram) March 5, 2018
When will time truly be the fuck up? https://t.co/o0CvNoTkf5

— Clare O'Connor (@Clare_OC) March 5, 2018
Why don't they ask Gary Oldman about hitting his ex-wife in the face with a telephone? That seems relevant.

— roxane gay (@rgay) March 5, 2018
remember when gary oldman beat his wife with a telephone in front of their children? lol!!!! anyway, he's nominated tonight for doing a funny accent in a fat suit. hollywood is cool

— Megpensive Macstakes?? (@mmmegan) March 5, 2018
Gary Oldman is gonna put his Oscar right next to his telephone

— Brittani Nichols (@BisHilarious) March 5, 2018
Koby Bryant faced similar viral backlash for winning his Oscar for Best Animated Short because he had previously been accused of rape. And last year's Oscar-winner Casey Affleck bowed out from presenting at this year's ceremony over allegations of misconduct that have since resurfaced in the #MeToo movement.
[image via screengrab]
Have a tip we should know? tips@mediaite.com