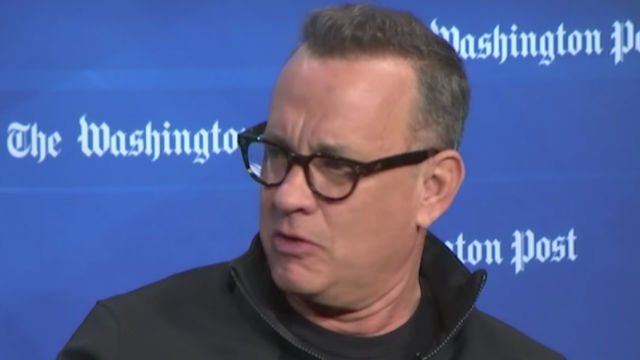 Steven Spielberg's The Post––about a battle between the press and the White House––has invited many comparisons to modern-day America. And star Tom Hanks says he wouldn't want the movie screened at the White House now.
The Hollywood A-lister has been vocal during the film's press tour about the parallels between that era of journalism and this one, not to mention President Trump's disdain for the press.
So in a new interview with The Hollywood Reporter, when asked about the President potentially screening the film at the White House, Hanks said this:
That's an interesting question. I don't think I would. Because I think that at some point — look, I didn't think things were going to be this way last November. I would not have been able to imagine that we would be living in a country where neo-Nazis are doing torchlight parades in Charlottesville [Va.] and jokes about Pocahontas are being made in front of the Navajo code talkers. And individually we have to decide when we take to the ramparts. You don't take to the ramparts necessarily right away, but you do have to start weighing things. You may think: "You know what? I think now is the time." This is the moment where, in some ways, our personal choices are going to have to reflect our opinions. We have to start voting, actually, before the election. So, I would probably vote not to go.
Hanks lamented how people now "can decide whatever facts that we want, that we would like" and how people in power are doing everything they can to denigrate and discredit the press.
[image via screengrab]
— —
Follow Josh Feldman on Twitter: @feldmaniac
Have a tip we should know? tips@mediaite.com
Josh Feldman - Senior Editor