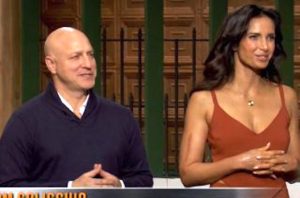 Welcome back, everyone! Or, if you didn't read last season's Top Chef recaps, welcome. Season 14 premiered last night, and this year, we're in Charleston, South Carolina, one of the best food cities in the country. This season, the powers that be at Bravo have decided to shake it up by bringing 8 newbies and 8 veterans of the show who are seeking redemption.
The veterans are: Brooke Williamson, John Tesar, and Sheldon Simeon (season 10, Seattle); Shirley Chung (season 11, New Orleans); Casey Thompson (season 3, Miami and season 8, All-Stars); Katsuji Tanabe (season 12, Boston); Amanda Baumgarten (season 7, Washington, D.C.); and the very, very attractive Sam Talbot (season 2, Los Angeles).
The new people are: Annie Pettry (Louisville, Kentucky); BJ Smith (Portland, Oregon); Emily Hahn (Charleston, South Carolina); Gerald Sombright (Marco Island, Florida); Jamie Lynch (Charlotte, North Carolina); Jim Smith (Montgomery, Alabama); Sylvia Barban (Brooklyn, New York); and Sylva Senat (Philadelphia, Pennsylvania).
Also new this season? Graham Elliot as judge. Padma Lakshmi, Gail Simmons, and Tom Colicchio have all returned for this season.
We learn a few things immediately. BJ's tattoos (which he says cover 75% of his body) are a way of rebelling against corporations. He's also trained under some really impressive restaurateurs, including Charlie Palmer and Andrew Carmellini. Emily has an attitude problem that she herself lets us know about within moments of meeting her- she also tells Padma and Tom to "stop talking" pretty much right away.  I can see where this is going. Jim is the official state chef of Alabama, which I didn't realize was a thing. Sylvia has a crush on Sam.
The first Quickfire challenge is for the new people only. The chefs are each given a full chicken and each has an hour to cook said chicken chicken as many ways as they'd like. The winner of the challenge, of course, gets immunity in the first elimination challenge. The loser has to go up against the losing veteran in a sudden death Quickfire challenge. Getting into it right away.
All of the chefs have gigantic plans, but most of them end up making just one dish, with a few making two. Sylvia actually has one of her dishes, a homemade pasta dish ready for the chefs before the clock runs out, and Tom and Padma like it. Jim decides he's going to be using strawberries to make a sauce (dressing), and I am immediately reminded of Phillip's strawberry sauce from last season, something I hoped I would never think about again. He's also using only chicken innards. Annie seems to be having a lot of trouble and I'm nervous for her because she seems sweet.
The veterans are incredibly annoying and they need to be reminded that they're here because they didn't win the competition last time they were on.
The judge's taste the dishes and for the most part they're pretty good. They love Emily's wings, and her buttermilk black pepper biscuits. They also enjoy Jim's innards, but less into the fact that he has an entire raw chicken sitting next to him. They're not into Gerald's poached chicken, however, and Jamie burned his vegetables, which can be fatal. Tom tastes Annie's panzanella salad, which he assures her is not, in fact a panzanella salad. Bummer.
The judge's favorite dishes are Sylvia's pasta dish, Emily's wings, and Jim's innards. The winner is Jim. The least favorite dishes are Annie's, for her panzanella salad "pile of croutons," Jamie's, and Gerald's. Gerald loses the Quickfire challenge.
Next up: vets. Also next up: Graham Elliot judging adults, instead of MasterChef Junior contestants.
The challenge is to make shrimp and grits. It's a simple dish, but there's a lot that can be done with it. Brooke starts making a scotch egg with ground shrimp on the outside instead of sausage. It's always risky making an egg on a show like this, because there's so, so much that can go wrong. It's even riskier, because she's using shrimp. When she cuts into the egg, however, she's done it perfectly.
Sam and Casey are keeping it pretty simple. Katsuji, like last time he was on the show, is doing the exact opposite and is using way too many ingredients. John made Kimchi and Kimchi butter to get some Korean flavors. Shirley made a "bowl of hug," which was an egg custard dish.
The favorites were Amanda's, for both her plan and execution, Brooke for her perfect egg and cool idea, and Shirley's "bowl of hug," for slapping you and then also giving you a hug, according to Tom. Brooke won the challenge.
The least favorite dishes were Casey's, for her undercooked grits, John's, for being one dimensional, and Katsuji's, for its lack of balance. John loses the challenge.
At the Top Chef house, the veterans are stealing beds, and John is plotting, though we don't know it yet. He has something up his sleeve (in his bag) for the next day.
The sudden death Quickfire challenge takes place on, yes, a plantation. It's called Boone Hall Plantation and is open to visitors for educational purposes and as a reminder of history. It's also home to one of the world's largest oyster festivals, and therefore, John and Gerald will be competing in an oyster roast.
This is where I become angry. John decides that he's going to make a heavy soup with oysters and truffles. If you're thinking, "but there are no truffles there for him to use," you'd be right. He whips a truffle out of his pocket and explains, "we're allowed to bring a few of our own ingredients." This is what I call bringing a gun to a knife fight, and it is very, very uncool.
Gerald makes a Thai-style oyster with mignonette. Unfortunately, he can't compete with John's very, very expensive soup, and he goes home. We'll see Gerald on last chance kitchen, though.
Come back next week for a recap of episode two!
[image via screen grab]
Have a tip we should know? tips@mediaite.com