Toy Company Behind Successful Trump Action Figure Announces 100% of Proceeds Now Go To ACLU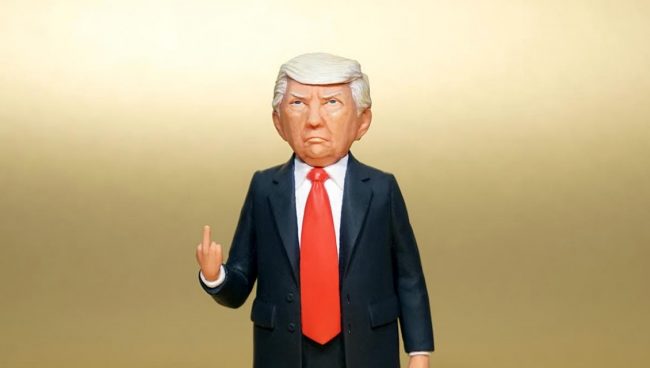 One company is turning their "bad guy" into a good terrific guy.
FCTRY, a toy company, gained massive amounts of attention when they began fundraising for the respective presidential campaigns of Hillary Clinton and Bernie Sanders by making action figures in their likenesses. Not long after, they were inspired to take their efforts a step further with one realization: "Bad guys are fun."
That's how the Donald Trump action figure was born, but that's not how its legacy will live on.
After that toy took off, too, FCTRY did a little soul-searching, according to a blog post, and has realized that bad guys are not as fun as they'd believed when they originally thought Clinton or Sanders would win. They had justified making Trump a toy by making his likeness tacky and unappealing — think tiny hands and removable hair —  and branding the figurine "An Over-Reaction Figure." (They took a little cue from Ted Cruz, no?) Some proceeds even went to a charity designed to help immigrants survive crossing the border. They explained it was never meant to last:
The whole thing would come to a glorious head when we stopped selling Trumps forevermore on November 8 because, as you surely remember, that was the day that Trump was going to lose the election and fade back into B-List oblivion.
Calling bad guys "horrifying" and "depressing," the company elaborated in their blog post that there is no joy in selling a Trump action figure to someone who doesn't get the joke or doesn't see that the doll's raised middle is inappropriate, not impressive. They wrote that while they were happy to see post-election sales skyrocket, it didn't feel right to profit off of Trump's policies. Then, there was this:
This weekend, when the immigration ban went into effect, it became clear. If we want to stand for something, we must take nothing.
Now, whenever a Trump figurine is sold by FCTRY, 100% of the proceeds will benefit the ACLU. You'll recall that the ACLU has been seeing record-smashing donation amounts since Trump's travel ban went into effect. (FCTRY isn't the first company to route donations to the human rights advocates and likely won't be the last.)
In a press release, CEO Jason Feinberg said,  "It was a surprisingly easy call to make. And based on the reaction we've gotten, our customers love that we're doing this. Orders spiked as soon as we announced the move."
Order one here.
[image: screengrab]
Have a tip we should know? [email protected]