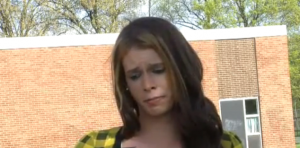 Chrissy Lee Polis, a young transgendered woman who was recently beaten at a Baltimore McDonald's to the point that she entered into a seizure, is now speaking out about her attack.
Polis recalls that she was approached by a man who asked her how she was doing as she entered the fast food restaurant's restroom. She responded "not now." Upon exiting the restroom, she says, a girl spit in her face and pushed her, accusing her of having hit on her boyfriend. Another girl soon approached and the two began grabbing Polis' hair, scratching, hitting, kicking her, and pulling the earrings out of her earlobes her as she attempted to fight back.
Polis recalls that McDonald's employees watched the fight, but did not try to intervene. One employee even taped the attack on his cell phone camera, despite Polis demanding that he get the phone "out of my face."
At one point, Polis attempted to call for help on her cell phone, but one of her attackers took it away. When Polis sat down and attempted to collect her things, her attacker kicked her back and stepped on her arm.
Polis does not recall slipping into a seizure, although she says she remembers feeling one coming on in addition to spitting up blood.
Polis adds she is appalled and hurt by the fact that her previous charges have been reported on the internet in connection to her attack, saying that they have nothing to do with the reason she was approached and beaten.
Additionally, she hopes to find the one patron who intervened by confronting the two girls (one of whom was only 14), so that she can thank her in person for her help. Everyone else, she says, merely asked the girls to stop once cops were on their way, noting that they were attempting to protect the two girls from facing arrest, rather than being concerned for Polis' well-being.
Take a look at Polis' interview:
And here is the (graphic – be warned) footage of Polis' attack.
Polis can be seen curled up on the floor as the two girls repeatedly kick her. One man is seen approaching the two girls and repteadly yelling "stop," but does not successfully stop the attack, as the two girls return several times and continue beating Polis. Eventually a woman intervenes while the two girls are dragging Polis across the floor by her hair, and makes them stop by coming between them and Polis. At one point, one of the girls can be seen pushing the older woman as she continue to try and get them to stop. When the girls are informed that cops have been called, they finally leave the restaurant. Polis is left on the floor, where she slips into a seizure:
We've seen many comments asking "how" this could have happened but, unfortunately, we're far from surprised that only one person truly attempted to intervene. What we'd like to know is whether the employees who stood idly by (and who, in some cases, even laughed during the attack) will face any sort of consequence, and whether Polis will be able to find and thank the one woman who stepped in and truly helped save her.
h/t optimummusic1blog and clk211bu via Buzzfeed
Have a tip we should know? tips@mediaite.com