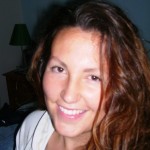 If you've been paying attention, you might have noticed a new hobby among journalists: writing and tweeting about efforts to lose weight and live more healthfully.
The most recent example is the cover story of The Atlantic's May issue. In the article about obesity in America, politics writer Marc Ambinder details the country's fight against fat with snippets from his personal journey to slim down. "I'm intimately acquainted with the struggle against fat. I may have been skinny as a child—my family used to joke about putting meat on my bones—and I played sports in school, but by the time I was bar mitzvahed, I was overweight," Ambinder writes. Later in the article he talks about his decision to undergo bariatric surgery to reduce the size of his stomach after Tim Russert's sudden death.
Last month, New York Times media reporter Brian Stelter starteda new Twitter account about eating healthily and weight loss. In his bio, Stelter also plainly states that his goal is to lose 25 pounds by his 25th birthday on September 3.  "I knew I needed to be held accountable, I knew I wouldn't unless every person around me knew about it," Stelter told me. Stelter says he got the idea from some Tumblr blogs on weight loss. "We do everything publicly now," he says, noting that one of the benefits of putting his efforts out there is that there's an instant community for guidance and advice. "Why not live better and live more healthfully in public?" ( It's working: So far, Stelter has lost 18 pounds in 6 weeks.)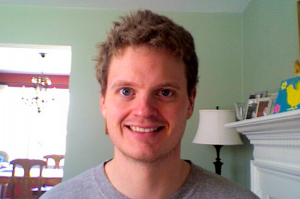 Drew Magary is yet another writer who has been tweeting about his weight loss, albeit with more sarcasm and profanity than Stelter. Magary is clearly a pro at this; he created a Twitter hashtag,  #twitterpublichumiliationdiet, to document his progress. Evidently it has been working well for Magary, who writes for Deadpsin and other outlets. He wasn't pulling anyone's leg on April 1 when he tweeted his "after" pic, which shows him 50 pounds lighter than when he started. "Holy shit, that is one SEXY asshole," he wrote of his new frame. Even though Magary has reached his goal, he continues to tweet about his weight. "To maintain weight, I will keep posting my weigh daily under the #tweetyourweight hashtag. Together, we shall all stay young & sexy," he wrote.
Magary thinks he's started a bit of a craze. "I think this is a larger trend of other journalists totally copying my shit, BECAUSE I TOTALLY DID IT FIRST AND NOW I AM SEXY," he wrote in an e-mail.
Caitlin Boyle's approach is a little different. The 25-year-old writer and soon-to-be published author started blogging about her healthy living efforts in the lead-up to her wedding in 2008. She's lost and kept off a total of 10 pounds, but focus is much less about weight loss and more about living healthily. In her debut post, Boyle wrote, "although i've been an avid exerciser for about three years, i've really stepped up my game now that i'm a mere 6 months from the wedding! i think i bought my dress comfortably snug to motivate me not to give up!"
In a similar vein to the men, Theodora Blanchfield wrote about her quest to drop weight on her Tumblr blog. For Blanchfield, a former Politics magazine associate editor, weight loss was just one of several reasons she started "Losing Weight in the City." She says she decided to document her weight loss online because she was feeling unhappy at work after moving to New York City.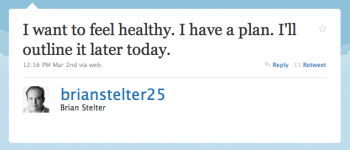 "I had been wanting to start a blog for awhile (and started and abandoned a few before starting mine). … I wasn't sure what I wanted to do next professionally, but I knew I had to learn more about new media, and I thought that health blogging was a great way to see if that was something I wanted to explore professionally," she wrote in an e-mail.
Mission accomplished on both accounts. She's down 50 pounds and working as a social media specialist at media company Hachette Filipacchi.
But perhaps the award for the most high profile diet-and-tell journalist goes to New York Times restaurant critic Frank Bruni. Bruni's best-selling book, Born Round, is about his battle to find a healthy relationship with food.
In an interview, Bruni said he initially didn't think he had an interesting story to tell. After he was offered the restaurant critic job and did some self-examination, he said, "I realized the narrative of my struggle with food, and eventual truce with food, not only made for a good story, but it would have a lot of resonance with people. I think more people struggle than don't struggle to manage food properly. My story is an extreme mirror of what a lot of people go through."
CNN's Candy Crowley is another well-known journalist to noticeably drop her weight, and has perhaps been the subject of the most speculation about it (and its  connection to her new job as anchor for CNN's State of the Union). But unlike Ambinder and company, Crowley didn't publicly document the process and has often stayed silent about her obvious weight loss.
Last November, she went on the record about her smaller frame. "It's stunning to me that something I consider so separate and apart from what I do for a living has taken up so much space in some people's thoughts. I am a hard-news journalist. That is what I do," Crowley told the LA Times' James Rainey in November. But Crowly, who dropped five dress sizes, acknowledged that she appreciated the positive comments. "I really appreciate what those people have been saying to me, some really heartfelt things."
Jaclyn Schiff is a writer, reporter and media consultant based in Washington, D.C. Her work — which often covers media, global health and women — has appeared in several publications, such as CBSNews.com, The Huffington Post, NPR, PBS MediaShift and Women's eNews. Find her on Twitter or Tumblr.
Have a tip we should know? tips@mediaite.com