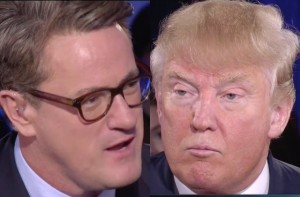 In an interview with Fox News' Howard Kurtz, presumptive nominee Donald Trump dug into MSNBC host Joe Scarborough, who, he said, "went essentially to the Democrats' side" and "went totally rogue."
Kurtz writes in Fox News:
 "As soon as I won the nomination," Trump said, "[Scarborough] went essentially to the Democrats' side. He went totally rogue. He was embarrassed to be so high on a Republican…It's very dishonest what he's saying."

Scarborough told me that he and co-host Mika Brzezinski have been friendly with Trump for years. "It's sad for Mika and me to see him fall off a cliff, chasing conspiracy theories, suggesting the president is connected with ISIS…Suggesting a judge from Indiana is incapable of fairly ruling on certain cases because his parents, like Donald Trump's, weren't born in America. And his continued vilification of 1.5 billion Muslims is un-American."

Scarborough said Trump had no complaint when his analysis was upbeat: "You can't love John Madden when he says your team is going to win the Super Bowl, then hate John Madden when you start throwing the ball backwards 20 times a game."
Trump speculated that MSNBC was pushing Scarborugh to criticize him on the air, threatening him with the loss of his job, but the MSNBC host brushed off that theory, saying, "If the liberal network MSNBC had any influence on us, they certainly would have asserted it and suggested we not be so far out in our predictions on Donald Trump."
Earlier in the GOP primary, Scarborough had fielded criticisms that he has been openly supporting Trump on his morning show, but he changed his tune in recent months, accusing him of making "un-American" comments discrediting a federal judge of Mexican extraction. And he has asked rhetorically, in reference to Trump's proposed ban on Muslims, "Is this what Germany looked like in 1933?"
Scarborough, a former Republican congressman, said in May that he would not vote for Trump if he continued to push for his Muslim ban. Following the attack in Orlando, Trump doubled down on that ban proposal.
Have a tip we should know? tips@mediaite.com