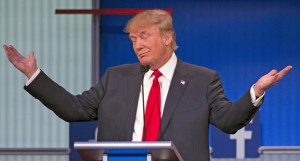 If you hadn't already noticed, Donald Trump and Fox News are fighting again.
Despite the apparent truce that formed between the top GOP presidential candidate and the conservative-leaning cable news station, the former recently renewed as online assault against Fox News anchor Megyn Kelly this week.
Last week, Kelly confronted a pro-Trump guest following a rally at which an attendee claimed President Obama was a Muslim and asked Trump if he was going to do anything about it. This promptly led the New York real estate mogul to retweet yet another anti-Kelly tweet, before setting off on a rambling Twitter rant against the Fox News personality.
Criticism from Kelly's Fox News colleagues Greta Van Susteren and Bill O'Reilly drove Trump even further in his renewed distaste for the network, resulting in his recently announced refusal to have anything to do with it:
.@FoxNews has been treating me very unfairly & I have therefore decided that I won't be doing any more Fox shows for the foreseeable future.

— Donald J. Trump (@realDonaldTrump) September 23, 2015
The thing is, Trump was supposed to appear on The O'Reilly Factor this Thursday. So does his latest whiny anti-Fox News tweet mean that the presidential candidate is cancelling said appearance? We've reached out to the network for comment and will update if/when they respond.
UPDATE–1:06 p.m. ET: According to CNN: "a Fox News source argued that Trump was antagonizing Fox in order to create controversy and draw attention to himself because of his decline in the polls."
[Image via screengrab/Twitter]
— —
>> Follow Andrew Husband (@AndrewHusband) on Twitter
Have a tip we should know? tips@mediaite.com