Trump Despicably Plays Golf Instead of Attending Funeral of Sgt. La David Johnson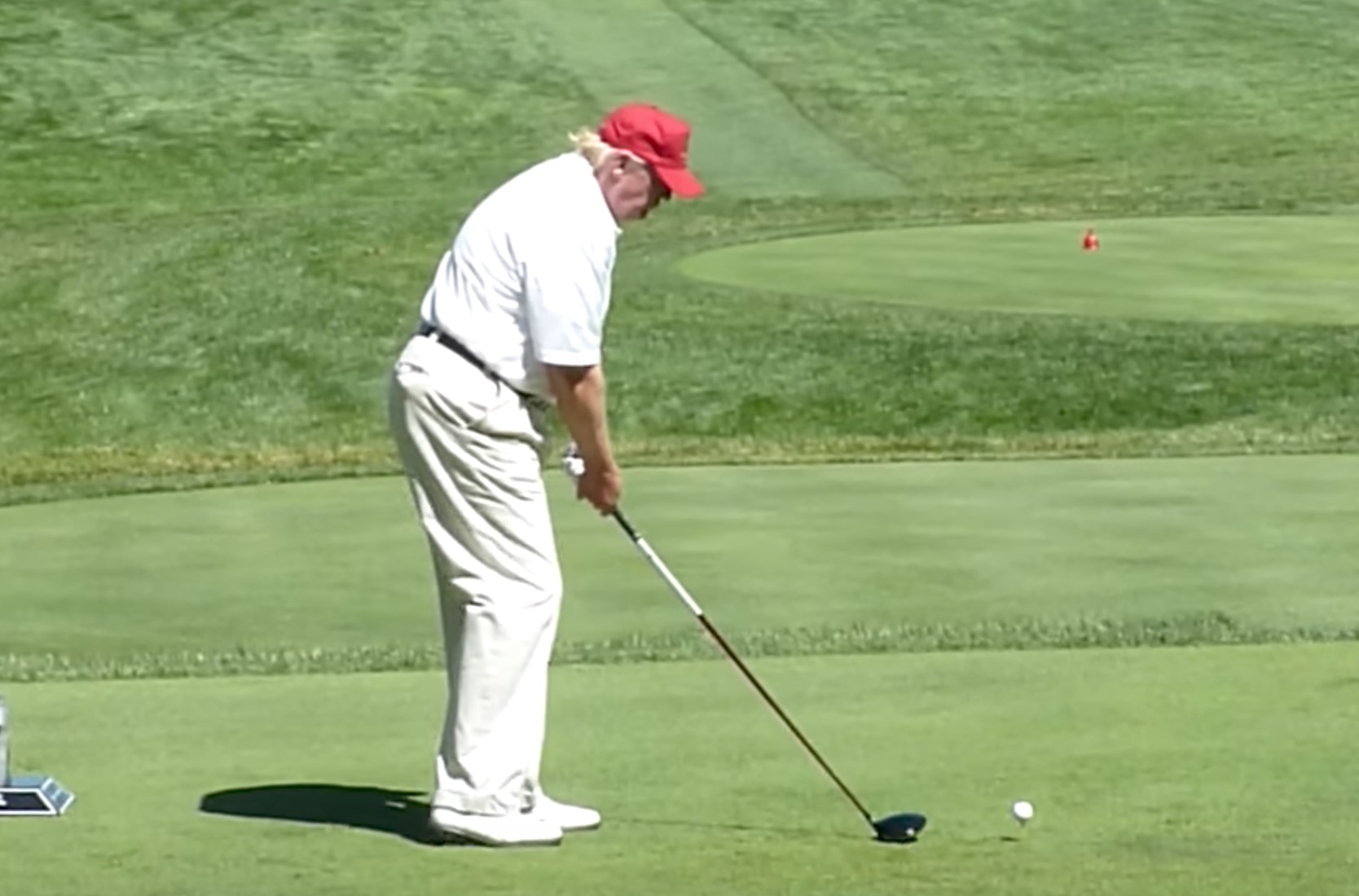 Today was truly a momentous day in the Trump presidency. It was the funeral of Green Beret Sgt. La David Johnson, one of the four brave American servicemen recently killed in Niger by ISIS. So did Donald Trump attend the funeral to make it clear he truly was sympathetic to the Johnson family and to clear up any misconceptions over his condolence call?
Nope. Instead Trump chose to play golf at his private country club in Virginia — for the third weekend in a row. (Can you think of worse optics?!) But not before taking to Twitter to slam Johnson family friend Democratic Congresswoman Frederica Wilson — all while not mentioning the late Sergeant's funeral.
Obviously presidents don't typically attend the funerals of those killed serving in our armed forces. But this is a unique situation. Trump created a media firestorm this week by fighting with Rep. Wilson over the words he choose to use in the his condolence call to Sgt. Johnson's widow and mother. Trump first called Rep. Wilson a liar by denying he ever told the family that Sgt. Johnson knew "what he signed up for." But then Trump's own Chief of Staff John Kelly confirmed that he in fact told Trump to say those exact words.
Add to that, Kelly stunningly slammed Rep. Wilson as an "empty barrel" and also shockingly served up lies about her conduct at the 2015 dedication of an FBI building in Miramar, Florida. (Kelly has yet to apologize for his lie.)
Trump attending the funeral could've been the perfect way to show empathy and compassion– two things Trump seems to have very little of. (Plus it would've been a very positive media story for Trump.)
But while Florida Governor Rick Scott ordered the flags in Florida to be flown at half-staff to honor the late Sergeant, Trump had other plans.
Trump needed to once again hit the links – all at our expense. While exact dollar figures are not available for his taxpayer funded golf outings at his Virginia country club, we do know that the Secret Service recently spent over one hundred thousand dollars to rent golf carts to protect Trump while he played at his country clubs in Florida and New Jersey. That doesn't include other expenses we pay for Trump to play, such as cost to local police to provide security, travel, staff costs, etc.
Today Trump showed America and especially our troops his priorities – which apparently is keeping his golf handicap down so that he can keep hitting "the balls on the screws" as Lindsey Graham put it last week when he played golf with Trump.
I just keep wondering how much more of this his supporters – especially those who are military veterans – will take of this. There has to be a point where they demand Trump do more than talk the talk about loving our troops and actually walk the walk. And when given that opportunity today, Trump chose to walk the golf course instead of the hallowed grounds of a fallen soldier's funeral.
This is an opinion piece. The views expressed in this article are those of just the author.