Trump Distracts From Today's Intelligence Meeting With Talk of TV Ratings and 'Apprentice'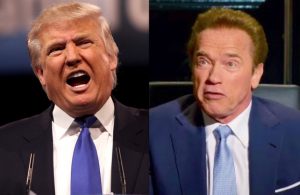 At stake Friday is the highly-anticipated meeting with President-elect Donald Trump and key leaders of the intelligence community to discuss Russia's interference on the general election.
The meeting is scheduled for just one day after the director of national intelligence James Clapper gave his testimony to the Senate Armed Services Committee, doubling down on his community's findings of Kremlin involvement on hacking efforts. On Thursday Clapper firmly asserted that a report from the fall that there was foreign meddling in the election was more true than ever. "We stand actually more resolutely on the strength of that statement," Clapper said yesterday, referring to the joint Homeland Security Department and the Office of the Director of National Intelligence report.
But instead, Trump has found himself a few other issues of at least somewhat less consequence to focus his energies on this morning. Remarkably (as if invoking Hillary Clinton and her Hudson River fireworks extravaganza wasn't enough this morning) Trump turned his focus onto — are you sitting down? — bragging about his television ratings.
The Complainer in Chief took to his favorite social media platform to criticize the ratings of the latest season of "Celebrity Apprentice" and its newest host Arnold Schwarzenegger.
Wow, the ratings are in and Arnold Schwarzenegger got "swamped" (or destroyed) by comparison to the ratings machine, DJT. So much for….

— Donald J. Trump (@realDonaldTrump) January 6, 2017
being a movie star-and that was season 1 compared to season 14. Now compare him to my season 1. But who cares, he supported Kasich & Hillary

— Donald J. Trump (@realDonaldTrump) January 6, 2017
"Wow, the ratings are in," writes the man who will be receiving the nuclear codes in only thirteen days. He went on to call himself "the ratings machine," and even go as far as to bash Schwarzenegger for his previous political alliances.
Trump made no reference however to the fact that he is still serving as Executive Producer for the series. Sad!
It's likely the newest attempt to toss a flash grenade on the ground and distract from the intelligence meeting schedule for Friday, an event perhaps so ripe with controversy and vitriol that the two sides couldn't even agree on a time. The President-elect has been accused of siding with Wikileaks founder Julian Assange over the information provided by our own intelligence community.
The head-scratching social media outburst also comes at a time when a key former CIA chief and senior advisor to the President-elect abruptly split with the incoming administration, just three days after he suggested on CNN that Trump was "playing" the media. James Woolsey, once viewed as a key advisor to the soon-to-be Commander in Chief, claimed that the split was simply about not giving "false impressions" that he was still advising Trump. "I'm not really functioning as an adviser anymore, and so when I'm on the screen, everybody announces that I'm former CIA director and that I'm a Trump adviser," he told CNN's Erin Burnett Thursday. "I didn't want to be claiming that I'm something I'm not."
—
J.D. Durkin (@jivedurkey) is an editorial producer and columnist at Mediaite.
This is an opinion piece. The views expressed in this article are those of just the author.