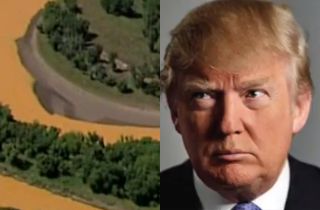 Hugh Hewitt had Donald Trump on his show yesterday, where he asked him for his opinion on the Environmental Protection Agency's disastrous spill that has poisoned the Animas River in Colorado. Trump gave his thoughts about how he would deal with such a disaster as president, but said that the EPA was "disgraceful" for giving him and others fines for violations when they allowed this to happen.
"This is all the more example why EPA, we should do it locally. We shouldn't be doing it from Washington. It's disgraceful," Trump said. "I'm looking at that every night now on the news, and the water is pure yellow. It's all acid, the worst stuff. Probably, you're right, probably going to kill the fish, kill everything. And it was totally their mistake."
Hewitt also asked Trump about whether he would fire the EPA Director if a similar disaster was ever to happen on his watch. Trump admitted that while its true that people make mistakes, but continued that states should be in charge of their own facilities, and that he would not tolerate mistakes on that scale
"Sometimes a mistake is big enough, you just can't, in your own mind, as a boss, you just can't get your arms around it and you say just get out of here, I want to start all over again," Trump said. "But this is a terrible thing, Maybe it just even seems worse because it was so easily avoidable."
CNN reported that spill occurred at a gold mine in Colorado on August 5, when an EPA contractor tried to pump and treat contaminated water, but sprung a huge leak that has unleashed millions of gallons of toxic sludge. Lead, arsenic and other compounds from Gold King have spread throughout the river, turning the water yellow and leading to numerous disruptions and environmental concerns in the nearby communities.
The EPA has claimed responsibility for the disaster and is working to address the crisis, but the organization is continuing to receive backlash.
You can listen to the interview here:
Have a tip we should know? [email protected]