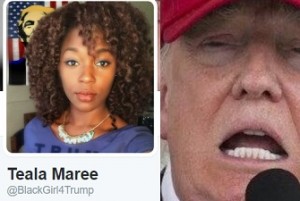 There's at least one "Trump girl" who won't be "breaking the internet" much longer, at least not in a good way. Over the weekend, the Twitter account @BlackGirl4Trump, which was run by a purported "18 year old black girl most likely pissing off ugly black people" named "Teala Maree," was outed as an impostor. Someone alerted a Twitter user named Christelle, who goes by the handle @Ohh_so_Exotic, that someone else was using her pictures to promote the candidacy of presumptive Republican presidential nominee Donald Trump, and she was not amused:
Yes!! ??? why are they using my picture !? https://t.co/NrWh3wI2CD

— Christelle (@Ohh_so_Exotic) June 26, 2016
Delete my picture please @BlackGirl4Trump

— Christelle (@Ohh_so_Exotic) June 26, 2016
@Ohh_so_Exotic @BlackGirl4Trump ?um. stop pretending to be my roommate. use your own busted picture to express your own busted views.

— Savanna McKellar (@savannerdd) June 26, 2016
This is not me .. This has gone out of hand https://t.co/DjUTMp3jCS

— Christelle (@Ohh_so_Exotic) June 27, 2016
Christelle tried to get some help from Twitter, but initially, got an unhelpful response:
I sent @Twitter a picture of my ID to prove my identity and that @BlackGirl4Trump is impersonating me. Got this back pic.twitter.com/EvBVMlcfsK

— Christelle (@Ohh_so_Exotic) June 27, 2016

The account, which has now been deleted, featured a pretty glaring red flag in the "pinned tweet" that once welcomed followers to the @BlackGirlForTrump experience: a selfie featuring an obviously-photoshopped "Make America Great Again" hat:
Makes you wonder how much you should trust those tweets from @FellowTeen4Hillary.
Here's a little sampling of @BlackGirl4Trump's tweets, before they disappear forever:
[imageviewer id=2565]
This is an opinion piece. The views expressed in this article are those of just the author.