Trump is Using the Official @POTUS Twitter Account to Tweet Out Hearing Highlights He Likes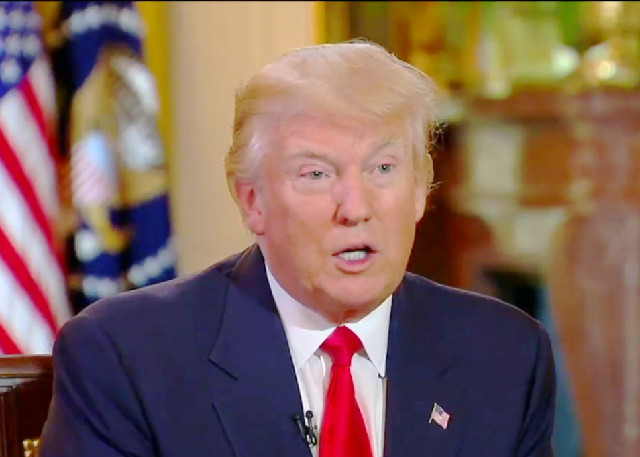 President Donald Trump weighed in Monday during the House Intelligence Committee hearing with a set of tweets cherrypicking highlights he found favorable.
At just after 12:30, p.m., the president tweeted out a clip from the hearing which showed FBI Director James Comey refusing to deny that he had briefed former president Obama about Russia-related phone calls made by Gen. Michael Flynn. Comey had issued many similar refusals to comment throughout the hearing for various reasons.
FBI Director Comey refuses to deny he briefed President Obama on calls made by Michael Flynn to Russia. pic.twitter.com/cUZ5KgBSYP

— President Trump (@POTUS) March 20, 2017
That tweet was soon followed by another from the official POTUS account that showed NSA Director Admiral Michael Rogers saying there was no evidence that Russia had falsified election results in a number of key 2016 battleground states.
The NSA and FBI tell Congress that Russia did not influence electoral process. pic.twitter.com/d9HqkxYBt5

— President Trump (@POTUS) March 20, 2017
Trump next added a clip showing Rogers agreeing with the claim that unmasking individuals picked up in intelligence gathering operations was a threat to national security.
NSA Director Rogers tells Congress unmasking individuals endangers national security. pic.twitter.com/jTwjPINvNh

— President Trump (@POTUS) March 20, 2017
Fourth up was a claim from Comey concurring that classified leaks had become "unusually active" in the Trump era.
FBI Director Comey says classified leaks to the media have been "unusually active" recently. pic.twitter.com/WumDJSqaFA

— President Trump (@POTUS) March 20, 2017
Next came a disclosure that the Obama White House did have the authority to "unmask" U.S. citizens.
FBI Director Comey admits Obama's White House had ability to "unmask" American citizens. https://t.co/gIo6it9NcQ

— President Trump (@POTUS) March 20, 2017
So far, assertions that his wiretapping allegations were false, or that he was the openly preferred candidate of the Russian government, have not been tweeted.
[image via screengrab]
Have a tip we should know? tips@mediaite.com