Trump Jr. on Dad's Misogynist Howard Stern Interviews: 'He's Allowed to Have a Personality'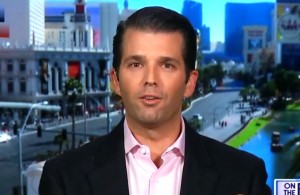 Donald Trump Jr. really wants you to know that those resurfaced comments his father made about women were definitely a joke between him and his good friend Howard Stern.
Donald Trump's arguably-misogynist past was recently brought back by Buzzfeed after they went through his old interviews on The Howard Stern Show and found some vulgar exchanges between the two. The subjects included Trump's sexual exploits and fantasies, rating women's physical attractiveness, and comments about an actress for being "flat-chested."
"People talk, 'Oh your father's a misogynist, look what he said about women,' like, on Howard Stern. When he gets with Howard Stern, who's a friend of his, he'll joke around, because it's a comedy show," Trump Jr. shot back to critics on Fox News Radio's Kilmeade and Friends. "He's allowed to have a personality."
From there, Trump Jr. talked up one of his father's favorite defenses of how his business empire has employed many women with some leading its construction projects. It is worth considering however that Barbara Res, the engineer and attorney Trump Jr. referenced, previously penned an op-ed that detailed her former boss' vanity, callousness, and arguably-sexist tendencies.
The Stern interviews also do not account for incidents such as Trump's personal and nasty treatment of Fox host Megyn Kelly, or how he called a woman "disgusting" for asking to adjourn a business meeting to pump breast milk for her child.
Perhaps Trump Jr. will address those next with his new white-supremacist friends at The Political Cesspool Radio Program.
Listen above, via Buzzfeed.
[image via screengrab]
Have a tip we should know? tips@mediaite.com