Trump Muses About 'Terrible' SNL: 'Who Knows How Long That Show's Gonna Be on For?'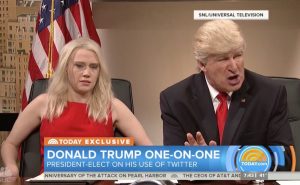 While he was collecting congratulations on begin named the 2016 TIME Magazine Person of the Year, President-elect Donald Trump used the opportunity of a TODAY Show interview to criticize Saturday Night Live.
Matt Lauer shifted the conversation away from the TIME distinction — which Trump won over finalists like Beyonce, Vladimir Putin, and Simone Biles (in a cruel twist of fate, Hillary Clinton finished in second place to Trump) — and asked the soon-to-be President about his penchant for slamming SNL. "Can we agree, Mr. President-elect Trump, that at this stage it would be better for you to simply stop watching SNL? As opposed to watching it and then complaining about it?"
Trump didn't agree with Lauer on that point, as evidenced by the fact that he then promptly complained about the late night laffer.
"There's nothing funny about it. The skits are terrible. I like Alec [Baldwin] but his imitation of me is terrible," said Trump unsurprisingly.
"But you can't bring yourself to stop watching it?" pressed Lauer further. The President-elect refused to answer directly, instead calling into question the longevity of the franchise that has been on television for decades.
"Frankly, the way the show is going now — and when you look at the work they're doing — who knows how long that show's gonna be on?" he mused. "It's a terrible show."
Lauer defended his fellow NBC brethren. "I think it's gonna do OK," he added.
Watch above via the NBC TODAY Show.
—
[image via screengrab]
Have a tip we should know? tips@mediaite.com