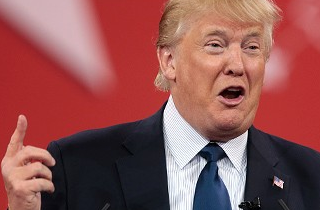 Donald Trump has been nominated for a Nobel Peace Prize, as has Pope Francis. Other names on the list include US Energy Secretary Ernest Moniz and Edward Snowden. 
Hundreds of people are nominated each year, of course. Kristian Berg Harpviken, a Nobel watcher and head of the Peace Research Institute in Oslo, first noticed Trump's name among the list of proposals. The person who nominated the GOP presidential candidate wrote that Trump should win for "his vigorous peace through strength ideology, used as a threat weapon of deterrence against radical Islam, Isis, nuclear Iran and Communist China."
Harpviken failed to mention Trump's name on the shortlist of people who could, in the Peace Research Institute's opinion, actually win.
Still, this is still an accomplishment for the business mogul. The Norwegian Nobel committee ultimately receives some 200 nominations. Being among those is just another achievement Trump can add to his ever-growing list. Here are a few others:
Congratulations to the peaceful presidential candidate on this latest accomplishment!
h/t Vox 
[image via screengrab]
For more from Lindsey, follow her on Twitter.
This is an opinion piece. The views expressed in this article are those of just the author.