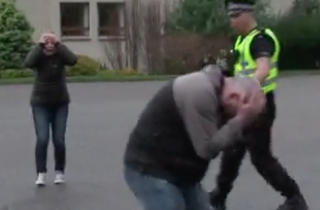 Last April, a video went viral that showed Swedish cops on vacation in New York subduing two men who got into a physical altercation on a New York subway. Tensions between the public and the police had already been high for months following almost a year of high-profile protests and activist organizing against police brutality.
The video became such an online hit because the off-duty police officers were "schooling" American police in peaceful resolution tactics, according to many outlets. American police chiefs must have listened to this pronouncement because they've been going to Scotland to learn from cops over there how to handle confrontations without pulling their guns out.
The American public is still angry about the amount of fatal run-ins people — especially people of color — have with the law. This anger has already sowed a few seeds of meaningful change: The police in Ferguson, Missouri, have tested an attachment for their guns that will make them "less lethal" (yes, seriously) and departments around the country have started implementing mandates for body cameras on all cops.
The visits to Sweden are the next logical step, according to Sky News, who will be airing the documentary on this subject that has been being filmed during the meet-ups. Last year, American cops shot almost 1,000 people, many of whom were unarmed; Scottish officers have fired on civilians twice in the past ten years.
Chuck Wexler, a former hostage negotiator from the Boston Police Department, brought the crew of cops over to Scotland, hoping that they'd each leave and go back to their departments with new insight into the appropriate times to use force. Sergeant Jim Young has been teaching them and told Sky News the following:
The American style of policing, it's very authoritative. There's a difference of going in, straight up at this level, whereby you're ordering people, you're shouting at them. You can't go anywhere after that. But if you start down low you can adjust your communications to suit.
Wexler noted, "It's about time that we step up and this is our chance. It's a crisis but it's also our chance to do the right thing."
[image via screengrab]
For more from Lindsey, follow her on Twitter.
Have a tip we should know? [email protected]