Trump Prepares for Next Debate by Holding Friendly Town Hall with Fans Asking Softballs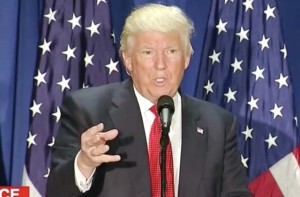 Presumably hoping to avoid a repeat of his first debate performance, Donald Trump held a mock town hall Thursday night, but according to multiple reports, it was not very useful preparation for his second head-to-head with Hillary Clinton.
Before a New Hampshire audience stacked with Trump supporters, Trump lashed out at the media, pollster Nate Silver, the Commission on Presidential Debates, and FBI Director James Comey.
He also accused Clinton of getting all the easy questions, and then he held court discussing carefully selected favorable polls, observations about the World Series, and anecdotes from his childhood about how he used to play with toys in his daddy's office.
The event was moderated by Howie Carr, a Boston conservative shock jock and Trump supporter. "Do you want me to call you when it goes over two minutes like I'm Anderson Cooper?" he asked Trump. Trump didn't, and Carr mostly didn't cut him off.
The event was an apparent rehearsal for the upcoming debate on Sunday. All the rules that Carr laid out, such as asking the audience to hold their applause until the end, mirrored the rules of a town hall debate. Chris Christie, who is reportedly helping Trump prepare for the upcoming debate, was in attendance.
However, Trump denied that the event was held to get him ready for his next confrontation with Clinton. "This isn't practice!" Trump said. "This has nothing to do with Sunday. We're just here because we just wanted to be here."
The second presidential debate will follow a (real) town hall format. It is scheduled for Sunday, Oct. 9 at 9 p.m eastern time. CNN's Anderson Cooper and ABC's Martha Raddatz will co-moderate. It will take place at Washington University in St. Louis, and will be widely aired on all the major broadcast networks and cable news networks.
—
Sam Reisman (@thericeman) is a staff editor at Mediaite.
This is an opinion piece. The views expressed in this article are those of just the author.