Trump Son-in-Law's Employee Asks Him to Denounce Anti-Semitism in Open Letter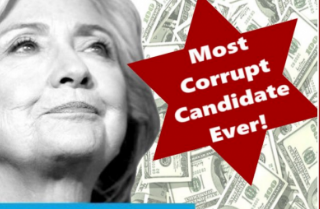 An employee of Donald Trump's Jewish son-in-law Jared Kushner wrote an open letter to his boss Tuesday asking him to speak out about his father-in-law's questionable use of white supremacist memes on social media.
"On July 2, as I'm sure you're aware (and have probably been wringing your hands about for the last three days), your father-in-law Donald Trump tweeted out an image of Hillary Clinton in front of raining money with a six-sided star declaring she's the "Most Corrupt Candidate Ever!" wrote New York Observer reporter Dana Schwartz in "An Open Letter to Jared Kushner, From One of Your Jewish Employees."
Schwartz noted that he called out the anti-Semitic imagery on Twitter, but was then swarmed by abuse from Trump supporters. "When I tweeted out my response, my worst fears were realized: his message, whether purposeful or inadvertent, was met with cheers by those to whom that star's message was certainly clear. Mr. Trump's tweet was seen as a winking promise to this nation's worst and most hateful individuals."
What angered him the most, Schwartz wrote, was how people pointed to Kushner to explain how Trump's tweet couldn't have been anti-Semitic. "Mr. Kushner, I invite you to look through all of those [hate tweets], the vast majority sent in your father-in-law's name. Right now, this hate is directed to one of your employees, but the message applies equally to your wife and daughter."
"And now, Mr. Kushner, I ask you: What are you going to do about this? Look at those tweets I got again, the ones calling me out for my Jewish last name, insulting my nose, evoking the holocaust, and tell me I'm being too sensitive… Look at that image and tell me, honestly, that you just saw a "Sheriff's Star." I didn't see a sheriff star, Mr. Kushner, and I'm a smart person. After all, I work for your paper," she concluded.
UPDATE — 7:30 p.m. ET: Kushner responded Tuesday evening in a statement published on Politico:
"My father-in-law is an incredibly loving and tolerant person who has embraced my family and our Judaism since I began dating my wife," Kushner said in the statement. "I know that Donald does not at all subscribe to any racist or anti-semitic thinking. I have personally seen him embrace people of all racial and religious backgrounds. The suggestion that he may be intolerant is not reflective of the Donald Trump I know."
[Image via screengrab]
——
>>Follow Alex Griswold (@HashtagGriswold) on Twitter
Have a tip we should know? tips@mediaite.com