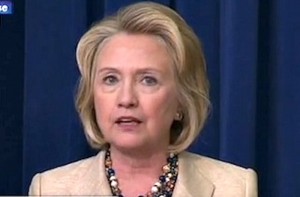 A pro-Trump super PAC is trying to build up support for the presumptive GOP nominee by linking Hillary Clinton to the KKK, a curious move given the fact that Donald Trump's ascendance has emboldened the Klan and his recent social media activity draws on white supremacist memes.
Crippled America PAC recently launched the website KKKlinton.com, which prominently features a photograph of Clinton alongside late Sen. Robert Byrd, who was a Klan member in the 1940s before renouncing his membership in 1952 and spending the remainder of his political career speaking out against the group.
"Intolerance had no place in America. I apologized a thousand times . . . and I don't mind apologizing over and over again," he said in 2005.
Despite Byrd's recorded renunciation of the group, The Huffington Post reported Tuesday morning that the site included a caption reading: "This image is of Hillary Clinton kissing Senator Robert Byrd who was, until his death, an avid racist who Hillary Clinton praised at his funeral and throughout her Husband's presidential runs." As of Tuesday afternoon, that caption has been taken down.
If Clinton is allied with the Klan in any way, that has been lost on former KKK leader David Duke who has often expressed his support for Trump.
Huffington Post's Amanda Terkel reports:
Attempts to tie Clinton to the KKK picked up when Trump struggled to disavow the support he was getting from white supremacist groups in February. Former KKK grand wizard David Duke said he supported Trump's campaign and told his followers that a vote against him would be a "treason to your heritage." Trump repeatedly insisted he didn't know anything about Duke, although he eventually distanced himself from the KKK leader when media outlets continued to press him about it.
Have a tip we should know? tips@mediaite.com